After School Music Program
Our Faculty of Education is honoured to support Sistema Kingston in offering an intensive after-school music program that focuses on positive social change through the pursuit of musical excellence. Through free, group-centred music instruction, Sistema Kingston emphasizes inclusivity and teamwork, builds personal persistence, and fosters creativity and personal responsibility in all its activities.
Using the Venezuelan El Sistema as its model, Sistema Kingston inspires children to reach their full potential as students, musicians, and citizens. Sistema Kingston was launched in 2015 as an initiative of Queen's Community Music in collaboration with the Limestone District School Board and the Joe Chithalen Memorial Musical Instrument Lending Library.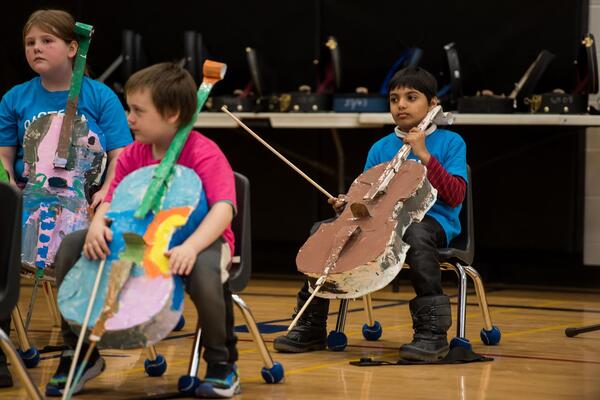 Work with Sistema Kingston
Sistema Kingston is not currently hiring, but if you are interested in working with us please reach out to Director Karma Tomm
Volunteer / Practicum with Sistema Kingston
"Teach children the beauty of music, and music will teach them the beauty of life." -El Sistema founder Jose Antonio Abreu
Please join us in our efforts to bring beauty into the life of a child.
Volunteer/Practicum With Sistema Kingston
Give to Sistema Kingston
Your help supports this intensive after-school program for at-risk children, aspiring for positive social change through the pursuit of musical excellence. Free group instruction fosters teamwork, creativity, & responsibility.
Give to Sistema Kingston
Our Values
Social Change - social transformation through the pursuit of musical excellence. One happens through the other and neither is prioritized at the expense of the other.
Ensembles - The focus is on the group experience (orchestral/choral) and working toward a common goal. Peer mentoring is integral to the experience.
Frequency - El Sistema ensembles meet multiple times every week for multiple hours at a time over extended periods.
Accessibility - El Sistema programs are free and inclusive to all.
Connectivity - El Sistema programs foster connectivity between students, teachers and families to build stronger communities. El Sistema programs are linked at the community, regional and national levels, forming a cohesive network of services, resource sharing collaborative opportunities and advocacy in support of each other.
Through Sistema Kingston, our Bachelor of Education students, who have a background in music and an interest in working with underserved children, have an opportunity to help with the program. Our graduate students have opportunities to engage with Sistema Kingston through teaching internships and research.
Sistema Kingston is committed to anti-racism, equity, inclusion, and the celebration of diversity in all our activities. Recognizing that systemic racism creates deep divides, we acknowledge there is work to do to confront biases and create spaces that are free from racism. We understand that this is a process and we are committed to ongoing work, including respectful dialog and critical self-reflection.
Sistema Kingston has a zero tolerance policy for overt and covert acts of violence against marginalized groups. We value an environment that welcomes all students, families, volunteers, employees and teaching artists, honouring their abilities, lived experiences, and individual identities. We are committed to creating a community that fosters respect and a sense of belonging.
As we explore, study and create with students, mentors, artists and one another through inquiry-based learning, we will reflect upon and deepen our understanding of our music and art in the context of their histories. We are committed to selecting and creating works that give voice to diversity, and that respect and honour our local, national, and global communities.
We live, work and play as uninvited guests upon the traditional territories of the Haudenosaunee Confederacy and the Anishinabek Nation, and we are grateful to share these lands. Sistema Kingston welcomes people from racialized/visible minorities, Indigenous peoples, persons with a disability/exceptionality, persons who identify in the LGBTQ+ community and others who reflect the diversity of Canadian society.
Karma Tomm, Director
Sofia Pelletier, Artistic Lead

Yessica Rivera Belsham, Drumming/Nutrition Coordinator
Jan LeClair, Orff, Choir/School and Family Liaison (Saint Thomas More)
Dianne Melonson-Howe, Choir/General Music (Saint Thomas More)
Will Smythe, Cello (Molly Brant)
Peter Wowk, Upper Strings (Molly Brant)
Yume Wu, Program Assistant/School and Family Liaison (Molly Brant)
Ariel Zaichick, Choir/School and Family Liaison (Molly Brant)
Contact Us
Director: Karma Tomm
613-533-6000 x 79069
tommk@queensu.ca
Molly Brant Elementary School Coordinator:
613-929-2594
sistema@queensu.ca
Saint Thomas More Catholic School Coordinator:
613-453-7325
sistema@queensu.ca