Queen's Concurrent Education is a 5-year + 1 summer term program that prepares secondary school graduates to become educators and qualify for Ontario College of Teachers certification. Our graduates are out into the job market a year earlier, since most other Ontario faculties of education offer their programs over 6 years with typical fall/winter semesters.
With Queen's ConEd, you will be working on two degrees at the same time – an Honours Bachelor of Arts, Science (including Kinesiology), Fine Art, Music, and a Bachelor of Education degree – both from day one! The BEd degree from Queen's is widely accepted for teacher certification across Canada and around the world. What makes Queen's grads more marketable is that they will all graduate with a concentration in one subject area.
Application Process
Applications for the Concurrent Education program are completed through OUAC. 
Overview
Two degrees at the same time: Bachelor's in Arts, Fine Art, Music, Science (including Kinesiology), and a Bachelor of Education.
5 years plus one term, with education courses and experiences in educational settings completed in years 1-2 with an in-school placement in year 3. Students complete an additional summer term in year 5 (ending in August). Queen's graduates are out into the job market one year early.
For both Primary-Junior (JK-Grade 6) and Intermediate-Senior (Grades 7-12) (decided by students at the end of year 1).
In addition to placements in Years 1, 2, and 3, candidates complete 18 weeks of placements in Year 5. This includes a three-week alternative practicum that can be done outside a school setting and anywhere in the world as long as it is related to the program.
Travel fellowships support education-related travel outside Canada for alternative practicum placements.
You will choose a concentration in Year 5, such as Teaching At-Risk Children or Adolescents, International Education, Exceptional Learners, Assessment and Evaluation, etc. You may instead choose to apply to a Program Track. Our Program Tracks are Indigenous Teacher Education, Artist in Community Education, Outdoor Experiential Education, and Primary-Junior French as a Second Language.
Note: Queen's-Trent Concurrent program admissions have been suspended as of 2015-16.
Teaching Subjects
Candidates in the Intermediate-Senior program option choose two of the following subjects:
Dramatic Arts
English
First Nations, Métis and Inuit Studies
French as a Second Language
Geography
Health and Physical Education (starting in Fall 2023*)
History
Mathematics
Music – Instrumental
Music – Vocal
Science – Biology
Science – Chemistry
Science – Physics
Visual Arts
 
Candidates in the Primary-Junior program option do not need teaching subjects. At the end of first year, BA(Hons) and BSc(Hons) candidates are able to choose any major/minor that is offered within their Bachelor of Arts or Science program. BMus(Hons), BSc(Hons) KIN,  and BFA(Hons) candidates already have a specialized degree plan when they enter first year.
*Heath and Physical Education will only be available as a teaching subject to Concurrent Education students enrolled in BSc(Hons) KIN.
Admission Information 
Selection is based on applicants' academic standing. Prerequisite courses are the same as those for entrance into the undergraduate degree program you are applying to at Queen's. See:
Applications for the Indigenous Teacher Education, Artist in Community Education, Outdoor and Experiential Education, and Primary-Junior French as a Second Language programs that may be taken in final year are accepted in December of year 4. For additional information about admission requirements to these programs, see:
For information regarding admission, please contact Student Services.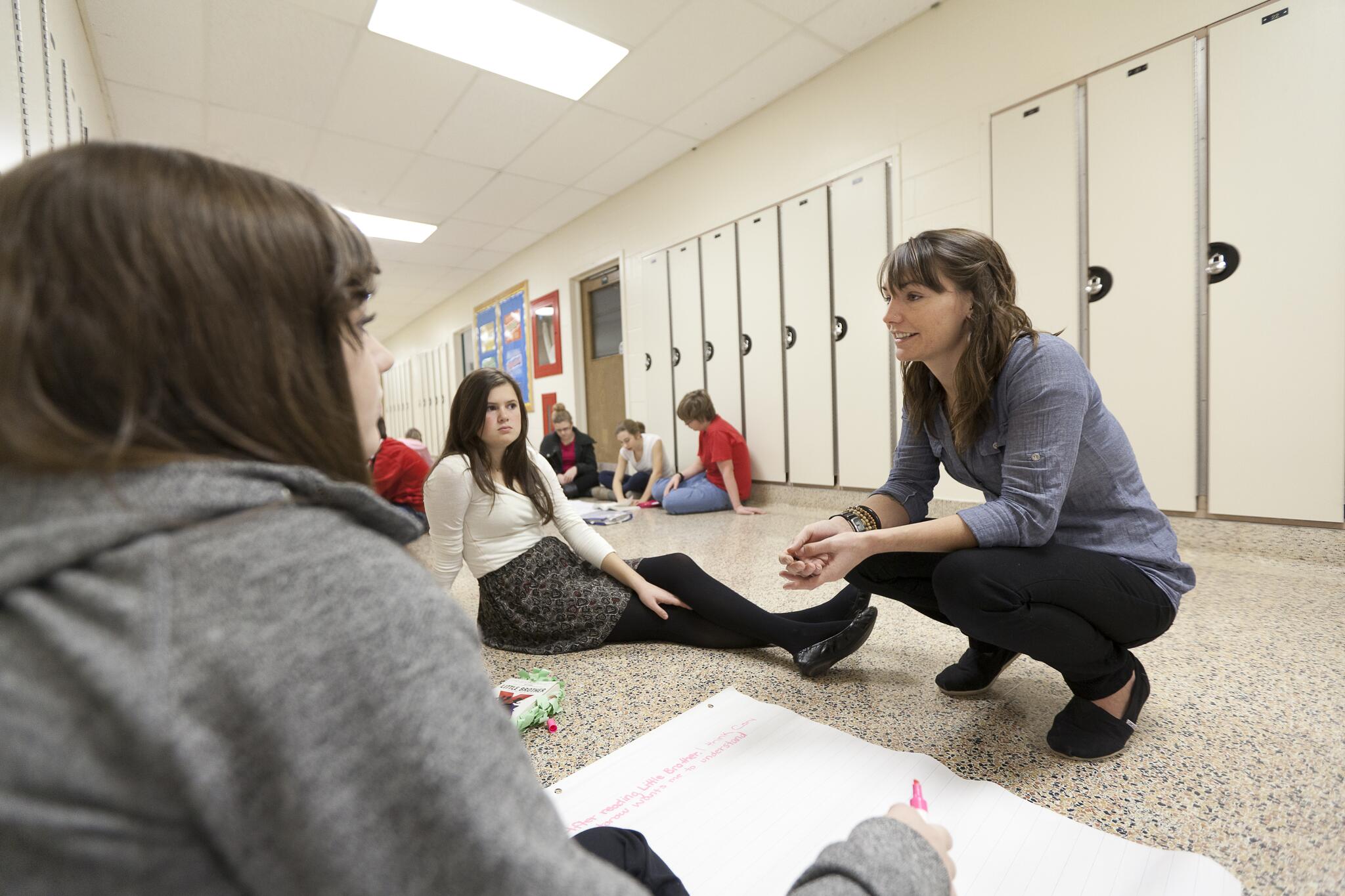 Students complete placements in years 1, 2, and 3, giving them valuable practical experience working alongside other education professionals in classrooms.
In the first year, students must complete 10 days of educational experience in a non-traditional setting. Settings could include working with children in early learning centres, education departments within museums and galleries, Boys & Girls Clubs, Outdoor Education settings, etc. Most students complete placements in summer, but they can be completed during any time when there are no scheduled classes (breaks, following exams).
In final year, regular practicum placements mean that you will work alongside other education professionals in classrooms for 15 weeks: two components in the fall (7 weeks in total); one component in the winter term (4 weeks) followed by an alternative practicum (3 weeks); and one component in the second summer (4 weeks).
The practicum blocks take place in schools within the designated catchment area, which includes 26 boards spanning from Burlington to Cornwall. You will complete a practicum registration where you select four different potential school boards for placement for your final year. 
The 3-week Alternative Practicum is typically completed outside the school system, and takes place in the winter term of final year, after March Break. It must be consistent with one of the goals of your concentration. Teacher candidates normally make their own arrangements for the Alternative Practicum. You can complete it anywhere in the world, and you can apply for a Travel Fellowship to help you get there. Your program focus instructor will facilitate and approve your topic and location and can also supply you with a letter of introduction that may help you in obtaining a placement.
Finance Your Studies
Queen's Student Awards provides charts with guidelines for costs that Concurrent Students  may incur, including education and basic living expenses. The amount it costs to attend Queen's will depend somewhat on the choices you make, which will affect your budget (such as where your extended practicum and/or alternative practicum is located).
For information on financial assistance please contact Queen's Student Awards.
Concurrent Education
Information for applicants on financing your Queen's Education can be found under Admission Awards. For general bursary and award information, see Current Students.