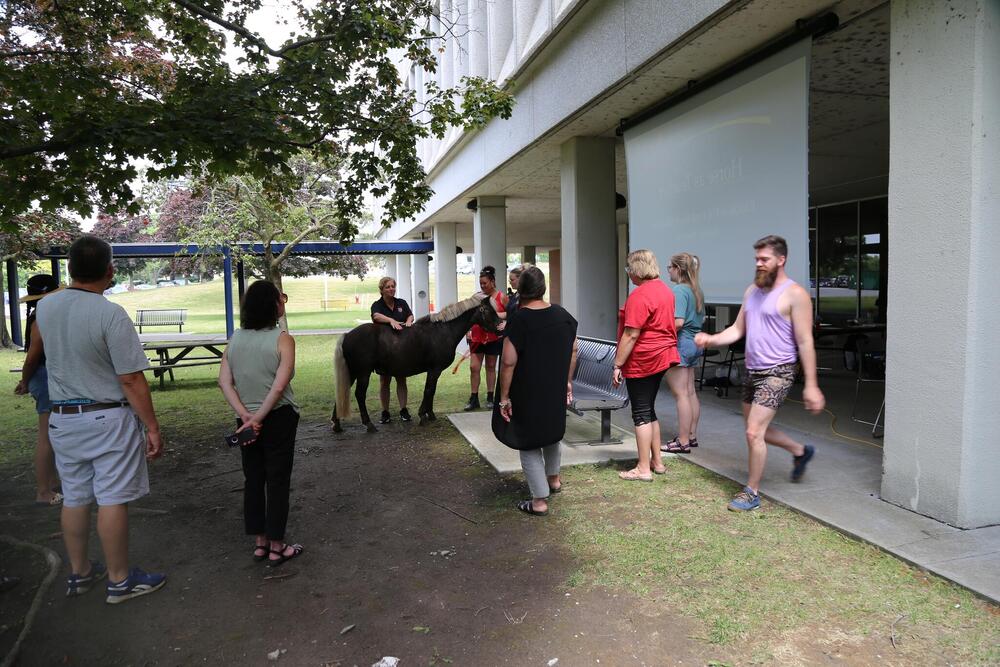 Our Master of Education World Indigenous Studies in Education students shared their classroom with Toby the Pony last week as part of their Land Based Education course. Heather Morrison, PhD Student, writes about the class, why she brought Toby to class, and a program she hopes to develop as a result. 
---
Despite having completed 70+ university level courses, this was my first (and best) opportunity to take an Indigenous studies course. 
Having asked for special permission to enrol in Education 874, offered as part of Queen's WISE program, I was thrilled to receive support from my supervisor Dr. Richard Reeve and Dr. Ted Christou, Associate Dean of Graduate Studies. 
The topic of this Special Studies course was 'Land Based Education', taught by Dr. Nicole Bell.  
A cumulation of learnings acquired during this course, my professional experience as a trauma counsellor and equestrian 
lead me to create a class presentation 'Horse as Teacher'. Toby the Pony joined us to demonstrate principles of active learning. 
Moving forward with my work, I am developing a trauma informed equine therapy program grounded in the teachings of the medicine wheel. Delivery of service will be provided by an Indigenous person who is a registered social worker or psychotherapist. Clients of Kingston agencies will be welcomed to attend. 
I am excited to see this program become reality. As it does, it will further demonstrate how Queen's education students weave theoretical knowledge into practice, improving the lives of others.