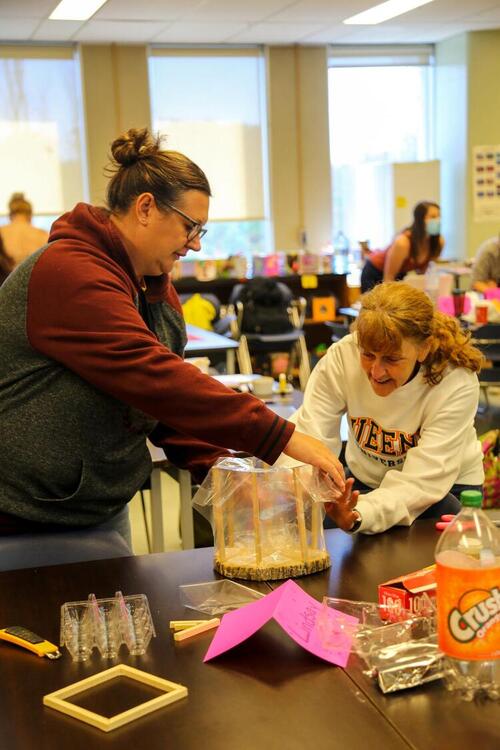 There are many benefits to learning a second language, from improving your brain health to cultural reasons and broader employment opportunities.
The most common second language to learn in Canada is French. According to 2022 Statistics Canada data, two out of every five Canadians said they could conduct a conversation in a second language, including just over one in five who spoke French.
For those seeking to learn French who were not raised in a French-speaking household, the Ontario school system offers three different pathways ranging from 'core French', which features just a few courses in the French language, up to French immersion, where most of a student's daily instruction time is in French. There are also separate French language school boards.
Demand for French-language instruction in Canada has been on the rise in recent years, and this has created more jobs for French teachers. But, like the rest of the education sector, there is a shortage of teachers to fill these positions due to retirements and retention challenges which were exacerbated by the pandemic. The Canadian Association of Immersion Professionals (ACPI) recently reported a shortage of at least 10,000 French as a second language (FSL) and French immersion teachers in Canada.
"We just don't have enough French immersion teachers, period," said Peter Chin, Associate Dean of Teacher Education. "What we have, though, is a lot of French-speaking people without an education degree working in schools. And we believe the school boards, the teachers, and the students – especially the students – would be far better off if the French-speaking person already in their classroom was a teacher."
This is why Queen's Faculty of Education, partnering with the Eastern Ontario Staff Development Network (EOSDN), a network which represents 13 school boards in the region, launched a program called French as a Second Language Multisession (FSLM) in 2022 to quickly upskill French speakers already working in eastern Ontario schools and prepare them for permanent teaching positions. Queen's handles the program delivery, while the EOSDN focuses on recruiting candidates.
"I work to make sure that candidates are successful as far as the academics are concerned and ensure our instructors understand the uniqueness of the FSLM candidate who is studying, working, and learning how to become a teacher," said Edith Bovey, the Queen's FSLM coordinator. "I also work with principals and candidates and try to support them if they're struggling in their new role as educator."
The six-semester program, which will graduate its first cohort in April 2024, and welcomed its second this spring, upskills those desiring to teach French courses – whether in language instruction or in French immersion – to help them obtain pedagogical skills, round out their subject matter knowledge, and assist them in obtaining a Transitional Certificate of Qualification and Registration (TCQR) which will allow them to begin teaching.
As part of their studies, which occur over two years, the learners complete a series of weekend courses and an in-person residency held in July at Queen's. They learn about French as a Second Language pedagogy, how to meet students' needs through universal design for learning, and how to teach topics like Indigenous Studies, literacy, and numeracy in French. The alternate delivery schedule is intended to accommodate those with work or other life obligations that preclude them from returning to traditional full-time studies.
"This is an opportunity for candidates like educational assistants or occasional teachers who have degrees but can't complete two more years of full-time schooling right now," said Manon Seguin, who works with the EOSDN and school boards on candidate recruitment.
The students also begin a classroom placement in September which lasts at least 80 in-class days but typically continues through an entire school year.
Upon completion of their studies and placement, the teacher candidates receive a Bachelor of Education and can become permanent teachers.
The program accepted 21 students in its first year and has expanded to 31 this year. Most of the learners are French speakers working as educational assistants or early childhood educators in schools between Durham region and Ottawa, and some of the candidates have existing teaching experience.
"We'll go away for school for a weekend and then come back and apply those things that week in our classroom," said Mikayla Young, one of the FSLM teacher candidates who is teaching French immersion in the Durham region. "Then, during the weekend sessions, we're able to ask questions about our week and learn from each other. It's also beneficial to hear how things are done in other schools and what other schools are experiencing."
"This is a great opportunity not only for the school boards, but also for the candidates themselves," added Bovey. "There is quite the cross-section in experience, age, family situations, et cetera, that we see in these candidates. They're all very grateful for the opportunity to have this career advancement."
The program was funded for up to three years by the Department of Canadian Heritage through two programs designed to improve bilingualism.
"This is the only program like this offered in Ontario and it offers a creative response to a need," said Denise Andre, executive director of the EOSDN. "We are very lucky to have this partnership with Queen's Faculty of Education. By sitting at our Board table with 13 school districts from eastern Ontario, they are in a unique position to hear from school boards and respond creatively. When I talk about this program outside of our network, people say, "I wish we had this program here".