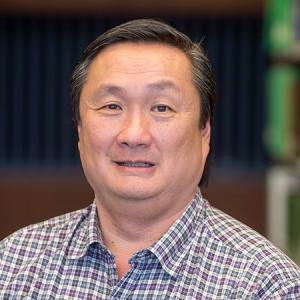 Peter Chin
Associate Dean of Teacher Education
Dean
Teacher and Science Education
To make an appointment with Peter, please send an email.
Note that Dr. Chin is unable to take graduate students at this time.  
BSc (Alberta), B.Ed., MSc (Calgary), PhD (British Columbia)
Associate Dean of Teacher Education 
​Associate Professor, Graduate Faculty
Coordinator of Technological Education
Dr. Chin is Associate Dean of Teacher Education and Coordinator of the Technological Education Program.  His research interests can be found in the areas of teacher education and science education. Within teacher education, his research focuses on the complexities of the practicum setting (from both the teacher candidate's and school associate's perspectives) and how we can improve our understanding of this setting through the establishment of collaborative communities of practice.
A related area of research stems from his interest in workplace learning. Specifically, with colleagues Hugh Munby and Nancy Hutchinson, he has been conducting research on high school students working in co-operative education contexts with a science focus. The research team wrote a discussion paper for the Council of Ministers of Education (CMEC) highlighting the research issues that need to be addressed in high-school co-operative education, and they are now working on their third SSHRC-funded research grant in this area. Additional research is being conducted on a 2-year SSHRC-HRDC grant that also includes Denise Stockley and Joan Versnel as co-investigators.
In science education, Dr. Chin is concerned with the implications for teaching and learning when one attends to constructivist learning theories, metacognition, multicultural/inclusive science, and issues within the philosophy of science. As part of the Ontario secondary school curriculum reform process, he co-authored discussion papers in both "secondary science" and "guidance and career education" for the Ministry of Education and Training. He has been involved in a three-year initiative to support the development of expertise in elementary science and technology within our local school boards, and is currently involved in a three-year project with secondary science teachers.
Dr. Chin also has a growing interest in international education.
Research Interests
Teacher education
Science education
High school co-operative education
Workplace learning
Recent Publications
Chin, P., Hutchinson, N. L., Versnel, J., & Munby, H.(2010). Principles for research on workplace learning: At the intersection of the individual and the context. In M. Van Woerkom & R. Poell (Eds.), Workplace learning: Concepts, measurement, and application (pp. 41-54) New York: Routledge.
Munby, H., Hutchinson, N. L., & Chin, P. (2009). Workplace learning: Metacognitive Strategies for learning in the knowledge economy. In R. Maclean & D. Wilson (Eds.), International handbook on education for the world of work: Bridging academic and vocational education (pp. 1763-1775). New York: Springer.
Chin, P., H. Munby, H., Hutchinson, N. L., Taylor, J. & Clark, F. (2004). Where's the science? Understanding the form and function of workplace science. In Eileen Scanlon, Patricia Murphy, Jeff Thomas & e. Whitelegg (Eds.),  Reconsidering science learning  (pp.118-134). London: Routledge Falmer.
Munby, H., Chin, P. and Hutchinson, N. L. (2003) 'Co-operative education, the curriculum, and working knowledge', in D. Trueit, W. Doll, H. Wang and W. Pinar (Eds.), The Internationalization of Curriculum (pp. 205–18), New York: Peter Lang.
Courses Taught
CURR 305: Intermediate/Senior Chemistry methods
PROF 191: Theory and Professional Practice
EDST 436: Introduction to Schools and Teaching (for MAS concurrent candidates)
EDST 446: Science & Teaching as Investigative Arts
FOCI 255: Educators Abroad Program Focus
EDUC 841: Topics in Science Education
EDUC 890: Introduction to Educational Research
EDUC 892: Topics in Quantitative Research
EDUC 910: The Traditions of Curriculum