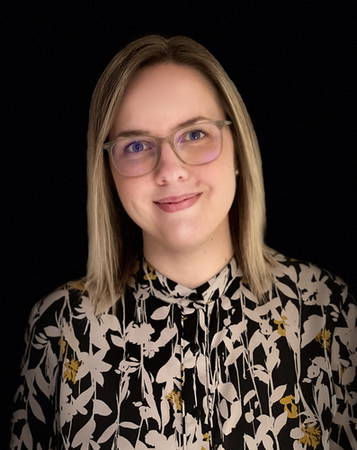 Educator, researcher, and lifelong artist Tiina Kukkonen, PhD '21, has a passion for supporting arts education programs in rural and remote communities along with a deep desire to make visual arts education accessible, relevant, and inspiring for all. Now, the scope of her impact is growing as her alma mater welcomes her to the Queen's Faculty of Education as Assistant Professor, Visual Arts.
Tiina's appointment builds on her many contributions to the Faculty including her work instructing visual arts education courses for teacher candidates. She is also actively involved in the Arts Infusion Committee at the Faculty of Education, with a focus on increasing art literacy and helping people engage with art.
Guiding teacher candidates to reflect on and expand their perspectives around creating and instructing art in the classroom is at the heart of her teaching approach.
"There are so many different ways to encourage cross-curricular learning with and through art. Studies have shown art makes lessons more engaging and students are more motivated to learn," explains Tiina. "When you take an interdisciplinary lens, you start to look at a bigger picture bringing together science, reading, writing, etcetera, making for a more holistic learning experience."
The journey to post-secondary teaching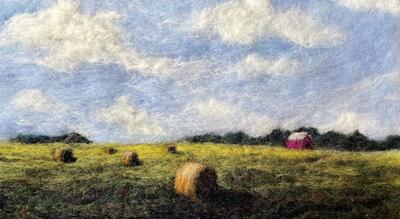 Tiina grew up in the small towns of Hudson and Saint-Lazare, Québec located 45 minutes outside Montréal. During elementary and high school, she was identified by her teachers as being artistically inclined. Following the completion of her undergraduate and masters degrees, she went to work teaching visual arts throughout Québec, navigating first-hand the challenges and opportunities of delivering education in rural and remote settings.
During that time, research project ideas began to form. Tiina decided to pursue doctoral studies at Queen's Faculty of Education.
Tiina's doctorate focused broadly on examining both art created in rural and remote places and also arts education practices in those settings. She interviewed artists, educators, and team members at five intermediary organizations, learning how they work independently and as part of a larger system.
"I looked at the role of intermediary organizations in bringing partners like artists, teachers and community members together and finding resources for them, such as funding or materials or space," Tiina explains.
Tiina says she was surprised by the many types of partner organizations that exist and how well they understand the systems around them, as well as their creativity in finding funding.
"People say there's no money for art, but if you look outside the box and find different types of partners, you see that there's money out there."
The intermediary organizations often provide a big-picture perspective and coach teachers and artists on how to work together and tailor their projects to fit within available funding umbrellas, an important finding that needed to be shared.
"I have a keen interest in knowledge mobilization, which is all about connecting your research with target audiences in ways that they can understand it and make use of it. That's where this idea of the board game came in."
Starting with collages and sketches, Tiina eventually used data from multiple case studies to develop characters within a board game titled 'Rural Arts Intermediaries: A Game of Partnership Brokering.' The purpose of the game is to collect enough resources and partners to be able to implement a successful artist-in-residence project in a rural school.
Copies of the board game, which is available as a free download, were shared with the intermediary organizations, as well as other interested parties to provide insight into both the obstacles that exist and strategies to overcome those obstacles.
Mobilizing art for learning
As her professorship evolves, Tiina hopes to teach graduate and specialty courses such as those focused on art in the community.
The visual arts courses she currently instructs rely heavily on hands-on exploration with art materials to guide teacher candidates in understanding the expectations of the Ontario curriculum and how those apply within the classroom. Tiina says she encourages the teacher candidates to think about how they can infuse art into more than just the structured art time.
"Art taps into other parts of our brain and being that we don't get to through other modes of learning," says Tiina. "It allows you to feel an idea, to feel a subject, and have a very strong reaction to it, and then there's the tactile aspect of actually making something. Whether using your hands or even if it's digital, the creation process allows you to learn more than the subject itself or the technical skill that's involved. You learn about yourself and who you are."
Tiina says skills like empathy and communication can be taught through making art, pointing to a recent course project that challenged teacher candidates to create artwork highlighting larger community and societal issues. Each teacher candidate created an art piece and accompanying learning guide, showcasing arts integration and learning through art.
"When you're creating a piece that's sending a message, you're communicating something to someone and you're involving them in a dialogue, even if you're not there. They're in a dialogue with the art piece itself, and through that art piece, in a dialogue with the artist."
Beyond teaching, Tiina plans to continue volunteering with the Arts Infusion Committee by organizing workshops, artist talks, art nights, and liaising between the Faculty and local art community. She also hosts an open studio once a month at the Faculty of Education's art room as a way to build community and provide a space for students, staff, and faculty to experiment with art.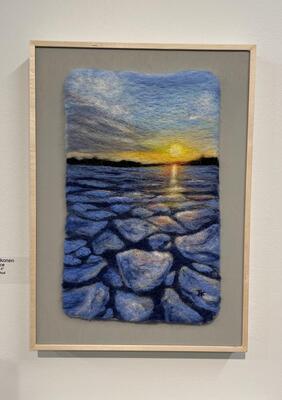 "I really want to make art more accessible within our Faculty for those who want to use arts-based approaches," she said. "I'm hoping to expand opportunities for that potentially through some sort of hub that would have materials and equipment accessible for everybody to be able to come and experiment with arts-based inquiry."
Her evolving research agenda includes developing additional rural arts education projects and building university partnerships with more artists to harness the untapped potential of such partnerships.
"We have a bunch of artists that partner with the Faculty of Education now, so I want to continue building that roster to include diverse artists from across Canada because we can offer virtual experiences as well."
In nurturing her personal artistic interests outside teaching and staying true to her Finnish heritage, Tiina is a member of the Kingston Fibre Artists and finds time for needle felting. She enjoys taking photos when exploring nature, locally drawing inspiration from the rural scenery of Amherst Island.
"I was very fortunate to have a lot of opportunities when I was younger to go out and just play in the forest, play in the lakes, and develop an appreciation for nature. Now I feel nature is the thing that brings me the most joy and inspiration."