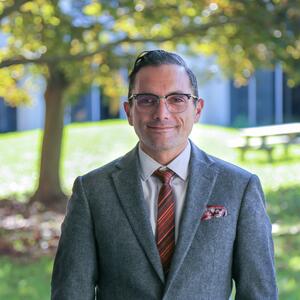 Theodore Christou
Associate Dean, Graduate Studies
To make an appointment with Ted, please send an email.
BAH, MA (Toronto), PhD (Queen's)
Associate Dean Graduate Studies
Professor of Education History, Graduate Faculty
Cross-Appointed to the Department of History
Dr. Theodore Christou is a Professor of History Education and the Associate Dean of Graduate Studies in the Faculty of Education. Dr. Christou is a leading educational historian and curriculum scholar with book publications spanning subjects such as progressivism, curriculum history, and inclusion in public schooling. As a scholar, Dr. Christou draws on 25+ years as an educator to examine the intellectual and social foundations of education.
Recent projects include open-access maps housing archival data, exploring the history of Indian Day Schools in Canada and visualizing the landscape of learning during the Late Antique period in Byzantium. Recent books include Spirit of the Grassroots People (McGill-Queen's University Press, with Elder Raymond Mason and Dr. Jackson Pind), the Palgrave Handbook on Social Studies and History Education (Palgrave, with Dr. Christopher Berg), and European Perspectives on Inclusion in Education (Routledge, with Drs. Kerstin Merz-Atalik, Robert Kruschel, and Ian Matheson).
Dr. Christou's scholarship, teaching, and service are devoted to education as a public good. Theodore is a poet, who has published two chapbooks with Hidden Brook Press in its select North Shore Series An Overbearing Eye and byzantine. Service to the educational community has been a lifelong commitment, locally with Beyond Classrooms Kingston, nationally with CAFE, and internationally with the Marsden Fund. Dr. Christou approaches education principal means by which we can affect change in the world and within ourselves.
Research Interests
History and Philosophy of Education
Faith and Hope in Education
Curriculum Theory
Poetry and Narrative Ways of Knowing
Education for Reconciliation