Program offering is contingent upon funding and adequate enrolment.
Aaniin, Boozhoo, Sekoli, She:kon, Tânisi, Waciya, Kwey, Hello!
The Indigenous Teacher Education Program (ITEP) provides an opportunity to specialize in Indigenous education and qualifies graduates for Ontario College of Teachers certification.
We have an on-campus and a community-based (blended) option for this program - find out more about the differences. 
Overview
Applicants can choose one of four community sites offered: Manitoulin-North Shore (Kenjgewin Teg), Lambton-Kent, Mushkegowuk Territory (exact site in Mushkegowuk Territory to be determined based on enrolment) or Tyendinaga.
Attend classes at Queen's University for one summer session. Two fall terms, two winter terms, and one summer term will be held at one of the community sites.
Primary-Junior (PJ) division (JK-Grade 6).
Can be admitted to the program with grade 12 or equivalent if you are of Indigenous ancestry. Can also be admitted with an undergraduate degree. All candidates will receive a Bachelor of Education.
Many courses taught by Indigenous professors, have increased online connectivity, and an emphasis on Indigenous languages.
Experientially-based, with 18 weeks of practice teaching in First Nations and/or Provincial schools.
Provides the opportunity for eligible candidates who are already teaching in a school setting to qualify for the Ontario College of Teachers (OCT) Transitional Certificate of Qualification and Registration (TCQR) and then, with Faculty of Education approval, to complete practicum requirements while continuing to work in their classroom teaching positions.
Admissions Requirements & Application
Selection of teacher candidates is based on the application requirements in TEAS Requirements for Queen's as well as the supplemental documents submitted to Education Student Services.
Applicants admitted without an undergraduate degree must be of Indigenous ancestry and submit documentary proof of their ancestry as specified by the Ontario College of Teachers (OCT) when they apply for certification. It is the candidate's responsibility to check the OCT website or contact the College (1-888-534-2222) in advance to determine what documentation is required.
For information about applying see How to Apply. Please contact the community-based ITEP site or the ITEP office should you have any questions about program offerings and/or the application process (see below).
Courses & Practicum
Learning opportunities include the application of Indigenous perspectives and worldview to theory and practice, problem solving with peers, review of Indigenous and other curriculum resources, and supervised teaching in a First Nations or Provincial setting.
Courses are adapted to local contexts and needs. These include Indigenous perspectives, balancing Indigenous-specific and student-centred learning with knowledge of the teaching/learning process, and research on Indigenous education.
Program material is delivered through short, intensive community-based course sessions during the fall and winter at the community site, and on campus sessions at Queen's University for one summer.
In addition to the required curriculum courses of the regular program, all Primary-Junior (PJ) ITEP teacher candidates are required to take courses in Indigenous Teacher Education, Theory and Professional Practice in Indigenous Education, and Indigenous Teacher Education Community-Based Practicum.
For more information on course requirements go to the Faculty of Education Calendar. 
2021-2023 Cohort - ITEP Community-Based Degree Requirements
2022-2024 Cohort - ITEP Community-Based Degree Requirements
Practicum placements consist of 18 weeks: 3 weeks in the first summer (May); 11 weeks in the fall/winter terms; and 4 weeks in the second summer (May). Practicum placements are normally completed in blocks of 3 to 4 weeks, and may be completed in the candidate's home region. Practicum placements are offered in First Nations schools and/or Provincial schools with a significant Indigenous student population. The community-based practicum placements are arranged by the on-site coordinator of the community site.
ITEP Services and Resources
Queen's University has many resources which may be of interest to Indigenous students, including an Indigenous student counselling service and an Indigenous student centre. Access to Elders is available both on campus at Queen's and in the community-based sites. The ITEP Office provides a number of services and resources to students, faculty, and staff. Community-based staff are also available during and between classes to provide administrative and student support. Throughout the academic year the community-based ITEP site hosts and/or partners with Indigenous organizations to bring events that support Indigenous education, and provide opportunities to build upon Indigenous language proficiency.
The ITEP Education Resource Centre and Student Lounge at the Faculty of Education houses an extensive collection of Indigenous education resources and general Indigenous resources. Indigenous Education resources are also available at the community-based site, along with indoor and outdoor classroom spaces, and access to a computer lab.
Specific course dates for the Fall and Winter Terms are subject to instructor availability and are chosen in consultation with community partner organizations where the courses are held, to avoid scheduling conflicts with local events.
Community Based ITEP Schedule Year 1:
Summer 1:
May (Community-based) 
Orientation
Prac 415
Observation Practicum 1(3 weeks)
June (Community-based) 
July (On-campus in Kingston, Ontario) - Classes
Fall 1:
September to December (Community-based) 
Classes 
PRAC 425
Practicum 2 (3 weeks)
Winter 1: 
January to June (Community-based) 
Classes 
PRAC 435
Practicum 3 (4 weeks)
Community-based ITEP: Sample Schedule Year 2
Summer 2: (2021 and 2022 cohorts only)
May to August
No Classes
Summer 2: (2023 cohort and later)
May (Community-based)
PRAC 445
Practicum 4 (4 weeks) 
July (Community-based) 
Fall 2: 
September to December (Community-based)
Classes 
PRAC 445 (2021/2022 cohorts) and PRAC 465 (2023 cohort and later)
Practicum 5 (4 weeks) 
Winter 2: 
January to April (Community-based) 
Summer 3: (2021 and 2022 cohorts only)
May (Community-based)
PRAC 465
Practicum 5 (4 weeks) 
July (Community-based) 
The Faculty of Education is currently accepting applications to the following Community-based ITEP sites:
Manitoulin-North Shore region (Kenjgewin Teg)
Lambton-Kent
Mushkegowuk Territory (exact site to be determined based on enrolment).
Tyendinaga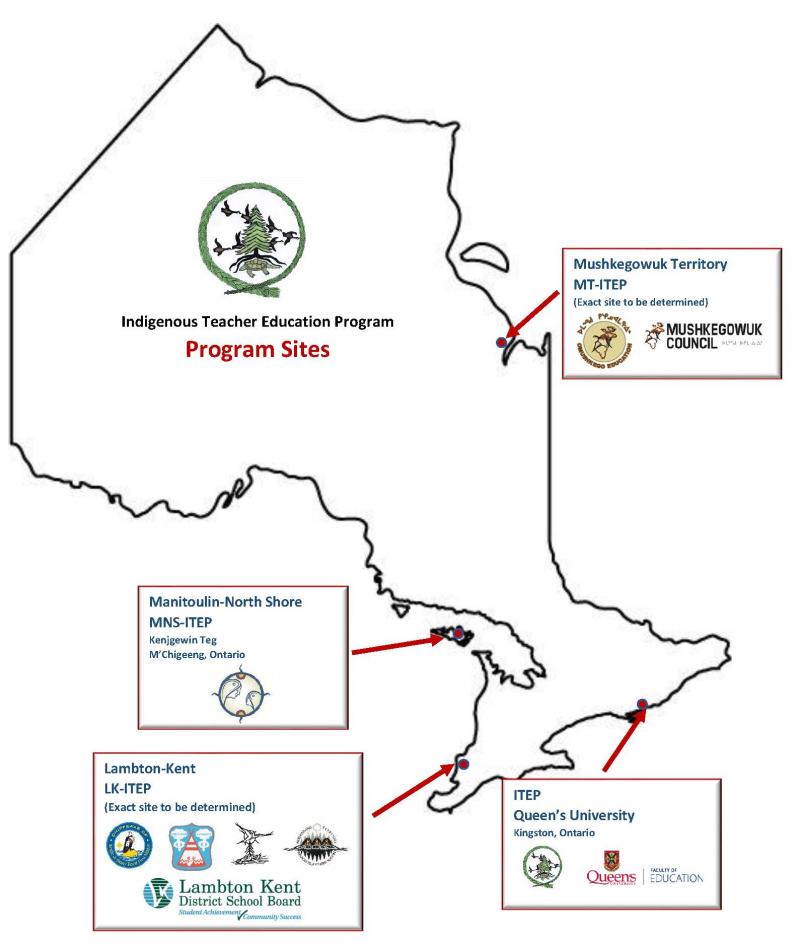 ITEP Office at Queen's Faculty of Education
Kingston, Ontario
1-800-862-6701
Manitoulin-North Shore ITEP (MNS ITEP)
Kenjgewin Teg
M'Chigeeng First Nation, Ontario
MNS ITEP On-site Coordinator
Debbie Debassige
DebbieDebassige@kenjgewinteg.ca
Mushkegowuk Territory ITEP (MT ITEP)
James Bay Region
MT ITEP On-site Coordinator
Bernice Kapashesit

Lambton-Kent ITEP (LK ITEP)
Sarnia, Ontario
LK ITEP Interim Site Coordinator
Helen Lane
Tyendinaga ITEP (TY ITEP)
Tyendinaga, Ontario
TY ITEP On-site Coordinator
Callie Hill