Amy Newnham completed the Outdoor and Experiential Education (OEE) BEd program in July 2023. 
---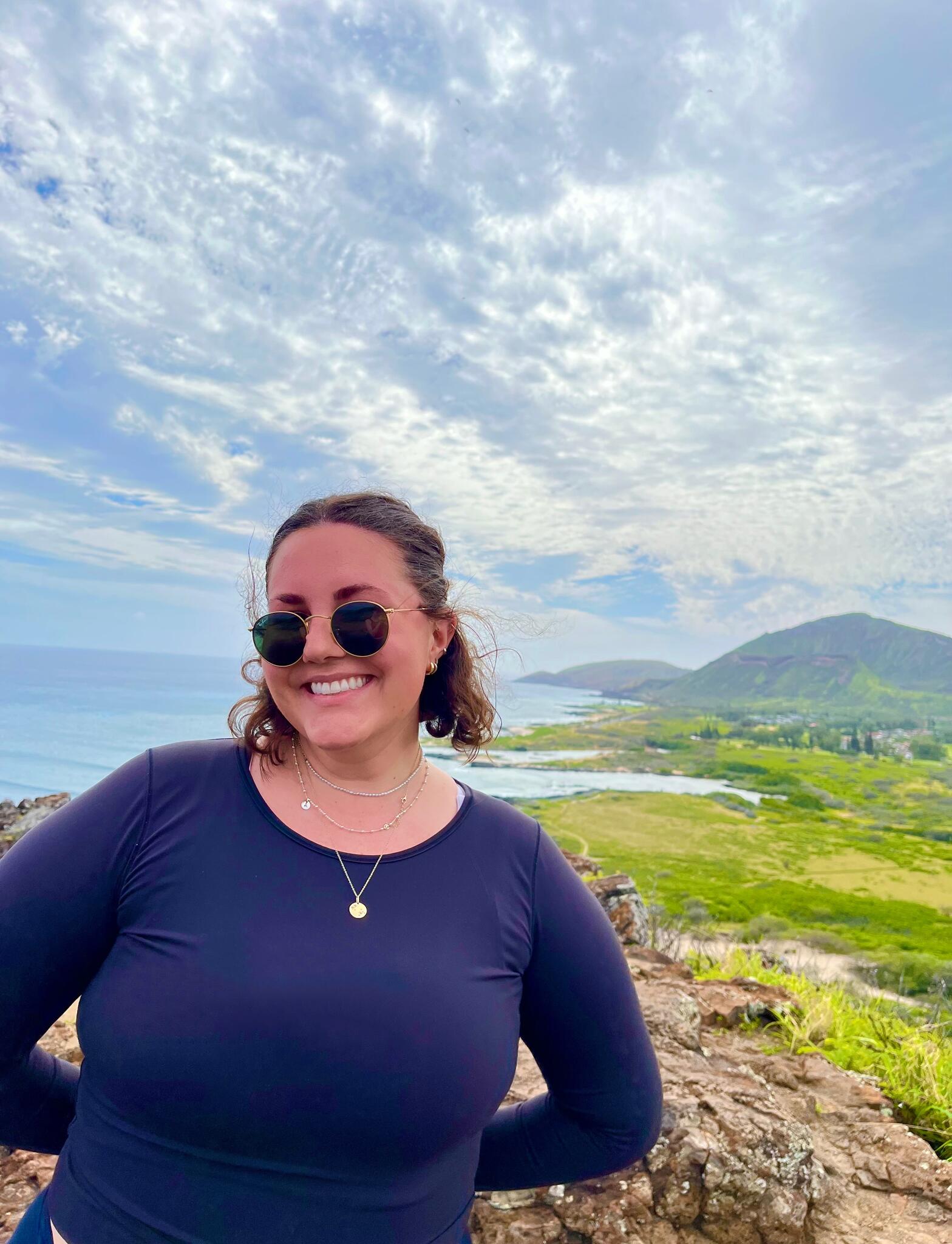 Why did you decide to get a Bachelor of Education? 
I pursued a Bachelor of Education because of my passion for leadership and my commitment to making a positive impact on the lives of others.
Since I was young, I've always loved helping others learn and grow. During my early years, I had the opportunity to witness the transformative power that excellent leaders had on my own life and the lives of those around me. This played a significant role in shaping my values, knowledge, and skills. I believe that it is these types of experiences that are key to empowering individuals, fostering critical thinking, and building a brighter future for youth. 

By obtaining a Bachelor of Education, I knew I could formalize my understanding of these concepts and delve deeper into subjects like curriculum development and inclusive education, equipping me with a diverse set of skills necessary to cater to the unique needs of students and offer positive experiences like the ones I was granted. 
Why did you choose the Outdoor & Experiential Education Program at Queen's? 
I've always wanted to be in the Outdoor and Experiential Education (OEE) program track! Growing up, traditional classroom settings made me more aware of how much I valued outdoor and experiential learning. Each summer I was privileged enough to attend and work at a summer camp where I found a greater sense of attachment to the natural environment and the feeling that working within this space brought. I found that my summers fostered a newfound sense of confidence, independence, resilience, and enhanced personal well-being which strengthened my ability to focus when I was in a more traditional school setting.

Being exposed to outdoor education changed the way I look at education systems. I felt a desire to approach teaching with the same inspiring, inclusive, and flexible learning methods that I was shown. Outdoor and Experiential Education allowed me to grow and gain both hard and soft skills, personal and social development, and a sense of belonging.

The OEE program track at Queen's allowed me to learn more through the combination of OEE-specific practicums and experiential class trips to various alternative teaching centers, like forest-schools. In doing so, I could narrow in on my values and interests more closely. Additionally, due to the small class size, I am happy to say that I was able to create a wonderful network of life-long friends and passionate outdoor educators who I will surely connect with throughout my career.
 
What has been your favourite moment of the program?
The OEE class is an especially tight-knit group. Each cohort goes on various trips together - fostering a close bond. We started the school year with a field camp, had a closing camping trip to celebrate the end of the program.
Of all of the trips, the Council of Outdoor Educators of Ontario (COEO) Conference was the most impactful for me.  COEO is a non-profit professional body for outdoor educators in Ontario that runs annual conferences and workshops to establish and maintain practices in the field of outdoor education, to promote qualified leadership, to promote values, and to provide professional growth opportunities. Our OEE class went to the conference in Bracebridge where 30 of us slept in a large cabin together at Camp Muskoka for the conference. We were able to go to workshops about finding nature in urban spaces, fire-starting methods, silk screening, Indigenous education, nature journaling, and more. Throughout the weekend, we also had the opportunity to network and connect with mentors. 

COEO also showed me that outdoor educators know how to have a good time! When we weren't at workshops, we spent our off-time paddling, diaper-swimming in our lifejackets, singing around the campfire, and even having a conference-wide square-dancing evening. I remember that it was raining as we all piled into my car, exhausted from the memories we had made together. On the quiet drive home, I thought to myself, these people and this field are pretty fun. 
What did you do for your alt-prac?

My alt prac took place at the Hawaii Nature Center, based in Makiki Valley with exhibitions throughout the island of Oahu. The HNC is an organization that promotes awareness, appreciation, understanding, and stewardship of the environment through interactive and immersive programming for children. Here, I had the opportunity to work alongside expert environmental educators who specialize in outdoor exploration and hands-on learning. All programming at the center celebrates natural history, environmental science, and sustainability while also highlighting Hawaii's Indigenous languages and natural history.

The HNC runs Nature Adventure Camp, experiential field trips, and homeschooling programs where students could learn and play entirely outside, regardless of the weather. The curriculum explored a wide variety of topics related to animals, forest encounters, coastal encounters, watersheds, wetlands, hiking, fishing, craft-making, and journaling. My experience in Hawaii was one of the most meaningful I had throughout my BEd career. It taught me the value of engaging youth in nature from a young age, being curious about the world, and gearing activities toward the natural rhythm of kids. This was such a special and inspiring placement; I loved having the opportunity to be in a totally unique ecosystem that was completely different from the fresh water and forests that I am used to. 

What are you hoping to do when you are done with the program?

Next, I will be working at the Tawingo Outdoor Center in Huntsville, Ontario delivering experiential learning programs that foster personal and group development in an outdoor setting. I'll also be working at the Gould Lake Outdoor Centre Outreach Program for the Limestone District School Board as an Outdoor Educator and Canoe Trip Leader. The program offers a 16-day Physical and Health Education credit that focuses on outdoor summer activities. In the future, I hope to work in alternative/independent school spaces that integrate hands-on activities and collaborative, community-based learning environments, whether that be in Canada or internationally.