My name is Daniel Troisi and I am a B. Ed. Teacher Candidate in Technological Education at Queen's. I am a Red-Seal Chef by trade and hold a Bachelor of Commerce degree from the University of Guelph where I studied Hotel and Food Administration. My experience at the faculty has been defined by my role on ESS as the Tech-Ed representative, as the recipient of the D.E Loney prize upon graduation and, finally, by my leadership role in creating Queen's Community Cupboard.
What is the Queen's Community Cupboard?
Queen's Community Cupboard is a project designed and developed by student's in Technological Education.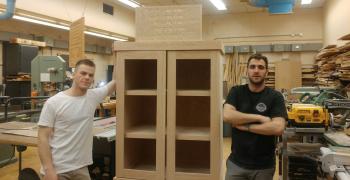 Located on Student Street by Jean Royce Hall, its mission is to provide Queen's Faculty of Education with an accessible space, where non-perishable food items and new school supplies can be donated and taken on a perpetual basis. The inspiration for this project comes from our desire to enhance the well-being of our community and to address food insecurity locally.
Queen's Community Cupboard was built as a lending library for all. If you or someone you know is in need please help yourself to donations today or donate now to help someone within your local community. For more information on this project please visit our website: https://sites.google.com/view/queenscc/home
Experiential Learning Opportunities
Queen's Community Cupboard was made possible by the Queen's Experiential Learning Projects Fund. Experiential learning projects encourage students to apply theory to practice. These projects allow students to experience authentic learning tasks in real-world environments. Through this process, students complete a task, reflect upon their findings and adapt their learning for future endeavours. For more information on how you can get funded for these types of projects please visit: https://www.queensu.ca/experientiallearninghub/
Why Community Based Projects?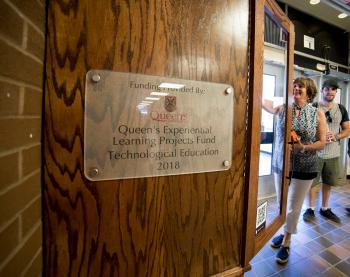 Community-based projects are an important part of the Technological Education Program curriculum and are organized by teacher candidates to meet community needs. As outlined in the Ministry of Education (2009) Technological Education Ontario curriculum document, "community partners in the area of technological education can be an important resource for schools and students. They can provide support for students in the classroom and can be models of how the knowledge and skills acquired through the study of the curriculum relate to life beyond school." (MOE, 2009 p. 10)
I hope to incorporate experiential learning activities into my classroom. When we connect our students with community partners, we are creating authentic learning opportunities supportive of real-world needs. Community-Based Projects encourage collaboration between teachers and positively impact local communities. I foresee similar projects such as Queen's Community Cupboard in my future. Food insecurity is not always visible; it is my goal to address food insecurity locally, one day at a time.