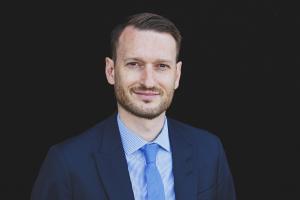 ​Michael Pitblado is the 2017 Rose A. Freeman Memorial Award recipient. The award is given to a graduate student Teaching Assistant in the Faculty of Education who directly contributes to the learning experience of Bachelor of Education (Con.Ed., B.Ed., Dip.Ed.) students through exhibiting outstanding commitment to the value of learning, availability to students, good organizational skills, and motivation.​
One of the most rewarding opportunities graduate students are offered in the Faculty of Education is the chance to work directly with our TCs as teaching assistants. Last year I had the pleasure of assisting with two Professional Studies courses in the summer, followed by Ted Christou's Introduction to Teaching History (CURR 335) in the fall and Rosa Bruno-Jofre's Historical and Philosophical Foundations of Education
 (FOUN 102) in the winter. Interacting and supporting TCs as they navigate the Bachelor of Education program allowed me to play a small part in their growth as teachers.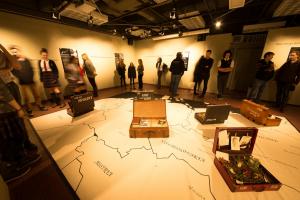 Aside from the usual classroom discussions and feedback on assignments, the richest experiences tended to be the informal chats in Student Street outside normal class time. A couple of wonderfully thoughtful and reflective TCs, for instance, felt uncomfortable with the idea of using role-play simulations in history classrooms, especially when it comes to teaching difficult history like that of Canada's Indian Residential Schools or the Internment of Japanese Canadians during the Second World War. So together, we worked through the issue, challenging each other to consider any potential educational value against the risk of reinforcing negative stereotypes and/or trivializing experiences of trauma. After pointing them towards the literature on the subject and where they could find classroom activities that invite students to explore historical perspectives without pretending to be someone they are not, these two TCs designed an exemplary lesson demonstrating alternatives to simulations.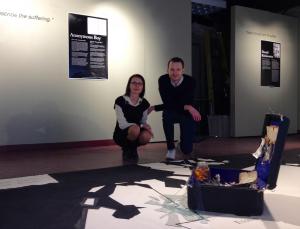 I also feel it is important for TCs to see their instructors walk the talk. As such, I keep my classroom skills finely tuned by teaching part-time at a local independent high school. Sharing my own teaching experiences with the TCs helps to model how theory can put into practice. For example, this past year I collaborated with fellow PhD student and art educator—Agnieszka Chalas—on an arts-integrated history project. After studying diaries written by young people during the Holocaust, we challenged our students to express their new historical understanding of victim experiences by creating an art installation using a suitcase motif. We displayed the installation in the Faculty of the Education's Studio Art Gallery and walked several different classes through the exhibit, including TCs taking Museum Studies, Art Education, and History Teaching. I think this project helped spark their imaginations, opening their minds to creative possibilities in their own teaching.