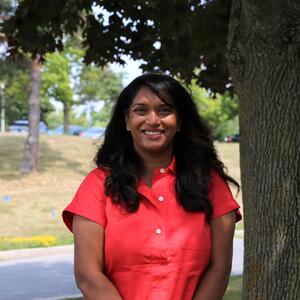 Thashika Pillay
Assistant Professor of Educational Policy, Graduate Faculty
Graduate Supervisor
Educational Policy
People Directory Affiliation Category
MEd, PhD (University of Alberta)
Assistant Professor of Educational Policy, Graduate Faculty
Dr. Thashika Pillay is an Assistant Professor in Educational Policy in the Faculty of Education, Queen's University. Thashika completed her PhD in Social Justice and International Education in the Department of Educational Policy Studies at the University of Alberta.
Thashika has extensive research and teaching experience in K-12 and higher education in Canada, Australia, and Ethiopia. Thashika's research program explores questions of social, cultural, economic, political, and epistemic justice and the possibilities for anticolonial educational policy in formal and informal contexts. In addition, Thashika is co-editor of Decolonizing Global Citizenship Education (2015) and Global Citizenship, Common Wealth and Uncommon Citizenships (2018). Her current research project with Drs. Lynette Shultz and Anna Kirova (University of Alberta) examines teaching for and learning about equity, justice, and advocacy for First Nations' children; this project brings together grade seven to grade nine youth from across "Canada" in order to better understand the pedagogies and learnings of anti-oppressive education for educators and students.
Research Interests
Anti-colonial educational policy
Anti-racist feminist pedagogies
Critical global citizenship
Comparative & international education
Indigenous knowledge systems
Intersectionality
Migration and diasporic studies
Teacher education
Selected Publications
Edited Books
Shultz, L., & Pillay, T. (Eds.). (2018). Global citizenship, common wealth and uncommon citizenships. Volume 17 – Comparative and International Education: A Diversity of Voices. Leiden: Brill
Abdi, A. A., Shultz, L., & Pillay, T. (Eds.). (2015). Decolonizing global citizenship education. Rotterdam: Sense Publishers.
Refereed Articles and Book Chapters
Shultz, L., Pillay, T., Karsgaard, C., & Pashby, K. (in press). A global youth deliberation and international youth position paper on global citizenship. In J. Meyers (Ed.), Research on teaching global issues. Charlotte, NC: Information Age Publishing.
Pillay, T., & Asadi, N. (2018). Creating educative spaces for Somali-Canadian youth through informal education. Diaspora, Indigenous, and Minority Education, 12(4), 201-213. Doi: 10.1080/15595692.2018.1506437
Hawks, M., & Pillay, T. (2017). Institutionalizing an ethic of care into the teaching of ethics for pre-service teachers. Journal of Critical Thought and Praxis, 6(1).
Taylor, A., Mehrabi, S., & Pillay, T. (2016). "You have to get that degree": Influences on the educational and career aspirations of racialized immigrant youth. In W. Lehmann (Ed.),Education and society: Canadian perspectives. Don Mills, ON: Oxford University Press.
Pillay, T. (2015). Decentering the myth of Canadian multiculturalism: A post-structural feminist analysis. In A. A. Abdi, L. Shultz, & T. Pillay (Eds.), Decolonizing global citizenship education (pp. 69-80). Rotterdam: Sense Publishers.
Pillay, T., & Shultz, L. (2014). Decolonizing global citizenship education. Cultural and Pedagogical Inquiry, 6(1).
Abdela, Y., & Pillay, T. (2014). Critical perspectives on the development of modern higher education in Ethiopia: A critical analysis of issues of relevance, quality and management. In M. Kariwo, T. Gounko, & M. Nungu, (Eds.), A comparative analysis of higher education systems: Issues, challenges, and dilemmas (pp. 181-196). Rotterdam: Sense Publishers.
Pillay, T. (2010). Critical perspectives on NGOs and educational policy development in Ethiopia. Journal of Alternative Perspectives in the Social Sciences, 2(1), 323-363.