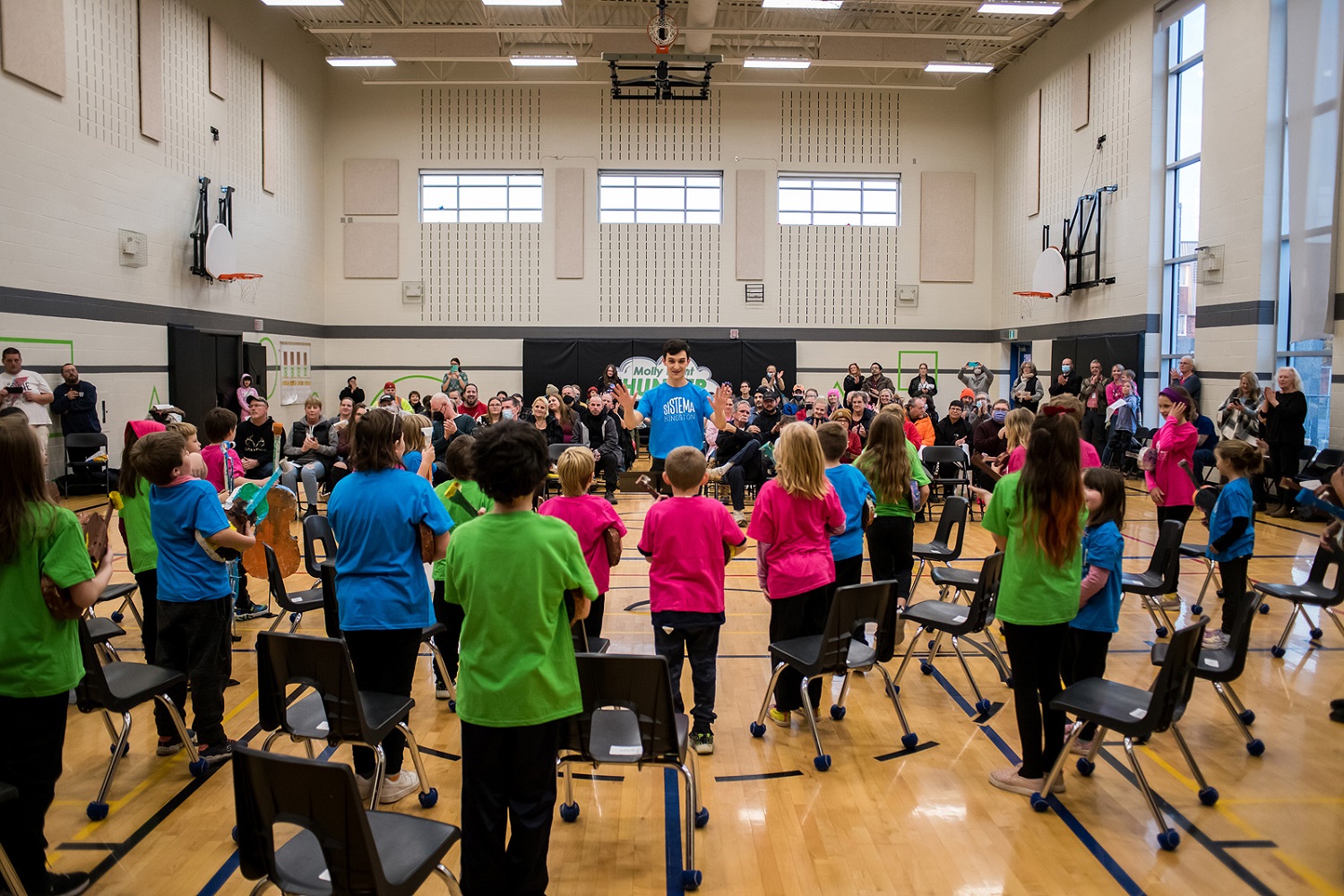 Do you hear that? That's the sound of inspiration as four afternoons a week, 20 students at St. Thomas More Catholic School in Kingston eagerly gather for their new after-school music program. While learning about singing, rhythm and instruments, they are also building confidence and life skills.
The Sistema Kingston program, in partnership with the Algonquin & Lakeshore Catholic District School Board (ALCDSB), has expanded to its second location; the first site is at Molly Brant Elementary School, part of the Limestone District School Board. The program's growth is supported by a recent gift from Bader Philanthropies.
The no-fee program, which is administered by the Queen's Faculty of Education, serves equity-deserving students in grades 2 to 6 at the two schools who may otherwise not have opportunities for musical education or extracurricular activities.
"Music lessons take time, disposable income, transportation, and access to instruments. Not everyone has that," explains Sistema Kingston Director Karma Tomm. "Sistema aims to address some of those inequities."
Karma says through caring for the whole student and pursuing musical excellence, the program's goal is to inspire at-risk students to recognize and strive toward their full potential.
"Music helps with so many things. It brings joy, builds community, and supports soft-skills development including listening, teamwork, and perseverance. It fosters creativity and it's fun. Kids are naturally musically expressive," Karma explains.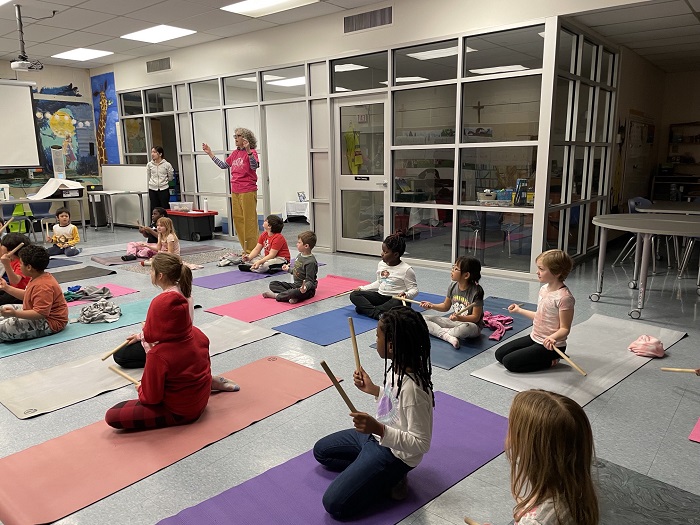 Connecting the students with musical learning opportunities takes a community effort. The Joe Chithalen Memorial Musical Lending Library (Joe's M.I.L.L.) provides free string instruments, while many Queen's Education students complete their practicum placements and gain hands-on learning opportunities by supporting students in classrooms and delivering the nutrition program. Sistema Kingston has also benefited from the support of many individuals and groups such as the City of Kingston Arts Fund, the Community Foundation of Kingston and Area, and the Rotary Club of Cataraqui-Kingston.
At St. Thomas More Catholic School, the ALCDSB is sponsoring the program's daily snack and providing an Educational Assistant to help transition students from their school day to the program.
"The ALCDSB's multi-year strategic plan has a goal around equitable access to learning opportunities and working with Sistema helps us achieve that," says St. Thomas More Catholic School Principal Sandra Fragoso​.
Starting with music readiness led by Teaching Artist Jan LeClair, the students are learning to use Orff instruments such as xylophones, tambourines, triangles and their own voices. Indigenous Teaching Artist Yessica Rivera Belsham teaches students about world drumming cultures and mindfulness.
Sandra says the program provides an additional opportunity to build school spirit, and helps students practice problem-solving, teamwork, adaptability, communication, and flexibility while building confidence.
"We work from an asset-model, where we believe kids can do anything. It is exciting to see them learn musical instruments and work together as a team."
Students in the Sistema Kingston program at St. Thomas More will join their peers from Molly Brant Elementary School at 4:30 pm on May 4 for a culmination concert at the Isabel Bader Centre for the Performing Arts. The concert is open to the public, and admission is by donation at the door.
"There's so much excitement for the concert in May. Having a professional space at the Isabel is an earmark of real and experiential learning," says Sandra. "The students connect their musical learning with the upcoming concert."
---
To support Sistema Kingston, please consider making a donation.