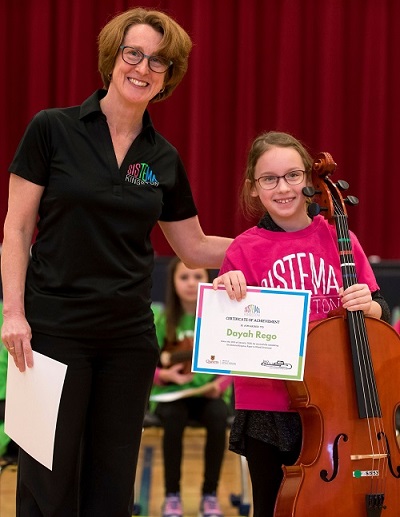 Dayah Rego practices the cello in her spare time and loves to draw and sketch as well. Playing music with Sistema Kingston since grade 2, Dayah is now in her fourth year with the program which takes place at Molly Brant Elementary School in Kingston's North End.
Originally, she was unsure about taking on the cello, but she has grown to love it. "I like the deep sounds" says Dayah "it makes a good harmony with the other instruments."
Dayah's initial motivation to join the program was to spend more time with her friend who was signing up. After bringing the proposal to her mom, Dayah has been drumming, singing, and improving her skills with string instruments ever since. Sistema Kingston is inspired by the El Sistema program from Venezuela. It is an intensive after-school music program focusing on positive social change through the pursuit of musical excellence. Through free, group-centered music instruction, Sistema Kingston emphasizes inclusivity and teamwork, builds personal persistence, and fosters creativity and personal responsibility.
Now in grade 5, Dayah still has fond memories of the paper-to-wood ceremony. Students practice on papier mache instruments that they personalize by painting before receiving their wood instruments during the ceremony. This year, Dayah will be taking on more of a leadership role and help during the ceremony. In her role as an older student, Dayah now gets to assist with the presentation of instruments to younger students. Dayah and the other older students will also sing alongside the younger students to help them stay on pitch.
Leadership is just one skill that Dayah has gained through Sistema Kingston. Dayah's mom, Nicole Rego, has noticed how practicing the cello has increased Dayah's patience. Nicole also notes that perseverance is a big part of musical practice.
"She's gaining so much more than what she realizes" says Nicole, explaining that music "collaborates with language, rhythm, and it just gives a sense of community." Nicole has also noticed that Dayah has more experience with accountability as she must keep on top of her practice.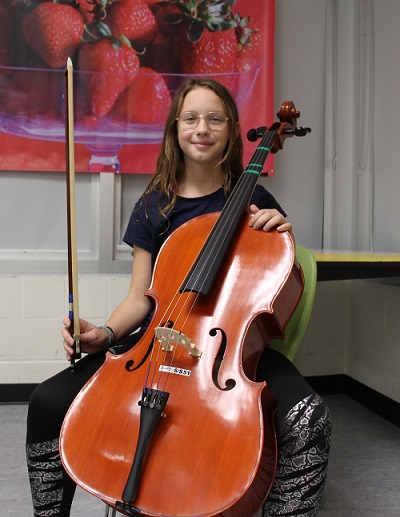 Through two years of Sistema Kingston being disrupted by the COVID-19 pandemic, Dayah persevered and continued her diligent practice. Both Dayah and her mom credit Teaching Artist Daphne Williams with helping to keep lessons going throughout the disruption. Williams adapted to the circumstances and provided both Zoom and socially distanced practice lessons.
Daphne "really went above and beyond for Dayah" says Nicole.
This year Sistema Kingston launched a partnership with the Kingston A-Strings, a program for young musicians offered by the Kingston Symphony, which rehearses at Molly Brant School. This has opened up opportunities for Sistema students like Dayah, who have experience on their instrument, to participate in the larger musical community in Kingston. Thanks to support from local donors to cover registration fees, she has joined the Kingston A-Strings, and maybe will one day play in the Kingston Youth Orchestra. But Dayah's artistic pursuits don't stop there. Her friends already ask her for drawings. As she continues through school, Dayah's creativity and the skills she has gained at Sistema Kingston will no doubt benefit her as she keeps exploring her passions for music and illustration. Help us support kids like Dayah!
Make a gift to Sistema Kingston: