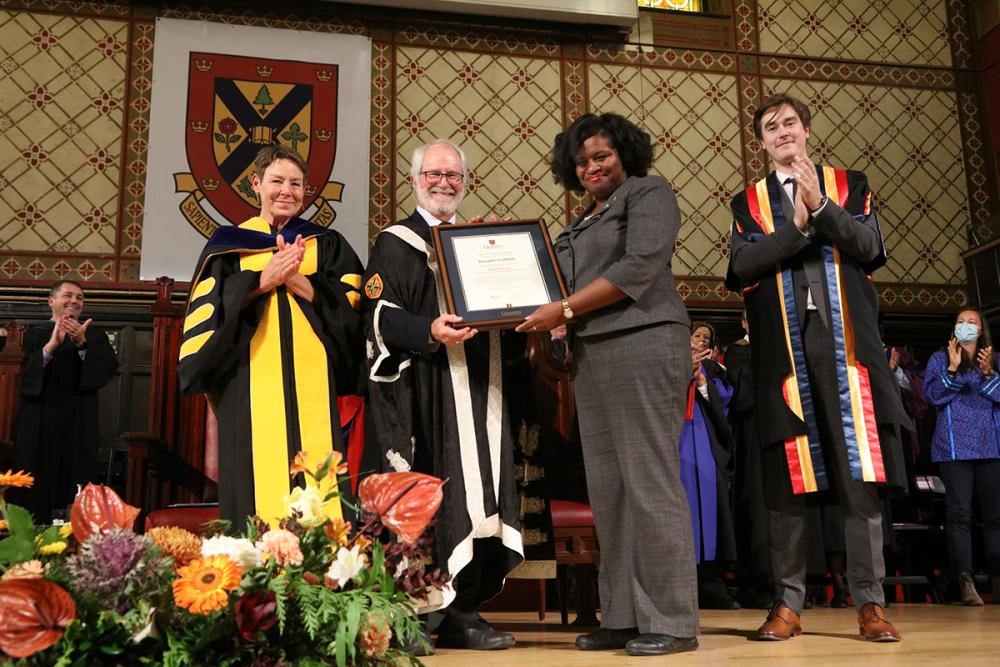 Alum Rosalie Griffith (BEd'99) is one of the 2022 recipients of the Baillie Award. Presented at fall convocatoin, the Baille Award gives undergraduate students the opportunity to honour an educator who had a decisive and formative influence on the student.
Griffith is now a Principal at Newtonbrook Secondary School in North York, with the Toronto District School Board. Nana Boateng (BCmpH'22), who nominated Griffith, says Griffith's experiences as a Queen's alumna and as one of only three Black teacher candidates in the Bachelor of Education program in 1998, inspired Nana as a Black student to pursue and achieve his own goals.
We were thrilled to have Rosalie on an episode of our podcast in February 2022. You can listen to the full episode where Griffith speaks about Black History Month.
Fred Bortolussi, the other teacher recognized at fall convocation, was nominated by Peyton Horning who is currently completing her BEd. Horning says that Bortolussi taught her how to be a lifelong learner and credits him with helping her aspire to be a good teacher.
For full information about the 2022 Baillie Award winners read the article from the Queen's Gazette.