The Faculty of Education has supported the 1 Million Teachers project as a partner since 2018. 1 Million Teachers helps teachers access professional development to empower them. We are involved in many aspects of the organization.
Hakeem was born and raised in Lagos, Nigeria. He did not set out to be an entrepreneur and never really thought about teaching either. In fact, very few people in his community did. Growing up, he regularly heard that teaching was not a respectable profession because teachers never have money and, therefore, he never considered a career in teaching. He was told that he was a smart kid with a bright future who should not waste his time becoming a teacher. So, after graduating from university, he began a career in banking in Lagos.
All of that changed when Hakeem became a parent. When he and his wife started looking for a preschool for their daughter, they were unhappy with the options available in Osogbo, Osun State, where they were living at time - so they decided to open their own. What began as a small school with just a handful of their friends' children quickly blossomed into a 192 student enterprise. But they had one major challenge: finding good quality )teachers. Overtime, they learned that across Nigeria and throughout sub-Saharan Africa, teachers are poorly paid and many only choose to stay in the profession because they have nowhere else to go. And thus, the idea for 1 Million Teachers was born: to provide quality and relevant training to 1,00,000 untrained teachers across Africa.
My journey with Hakeem began after he moved his family to Canada, first under the Federal Skilled Worker Program (now called the Express Entry) and later to pursue a Master of Entrepreneurship and Innovation degree at Queen's University. At the same time, I was studying at the teacher's college at Queen's and grappling with the realization that I did not want to be a classroom teacher after all, and wanted to pivot to a career in international development. I was introduced to Hakeem by Jane Chin, my professor and mentor. We met for coffee and he told me all about his dream for 1 Million Teachers. And the rest is history. If you ever meet Hakeem, you will know what I mean; his energy and passion for his country and for teachers is infectious. I knew he was going to create something special, and I wanted to be part of it, so I quickly joined his team. Shortly after, Hakeem was selected to participate in The Breakout Project, a social innovation festival that helped put the project on the map in Canada and around the world.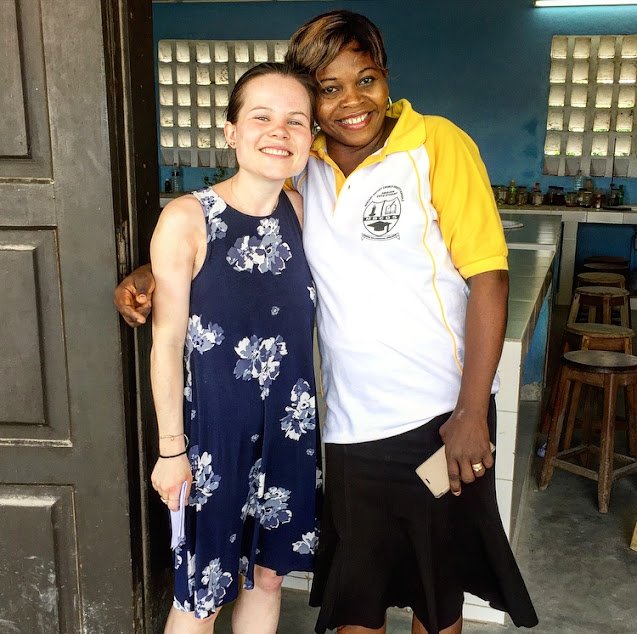 Over the next year, I worked with a small team, to develop the core curriculum for the 1 Million Teachers training program. I usually describe the training as one that fills in the gaps of everything a teacher would not normally learn in a formal teacher training institution. Today, the focus of training at colleges and universities across sub-Saharan Africa is still on "chalk-and-talk" or "teacher-centered" methods, but if any of you have been in the classroom, you know that teaching is so much more than delivery of content. As a former teacher myself, I can say that my job was about 20% delivery of content and 80% everything else: classroom management, diversification, engaging students, etc. 1 Million Teachers recognizes what makes a teacher a teacher, and all the important skills you just don't get in formal training. And it fills in those gaps.
Hakeem and I spent significant time travelling throughout West Africa, visiting dozens of schools, observing classrooms, and meeting with educators to understand their experiences and needs. Eventually, after extensive research and consultations, 1 Million Teachers officially launched their signature Black Belt program, available on an e-learning portal to all teachers across Africa. Some key features of the training include:
While it is delivered online, it is optimized for mobile, offline use and designed to be fully functional with limited access to internet or technology, meaning a teacher with a low-cost, low-bandwidth mobile phone can link their phone to the internet, download the course, and engage with all the materials in an offline setting.

Recognizing the busy schedules and demands of teachers, it is self-paced, giving teachers the flexibility to complete the training on their own time.

It connects learners to an online learning community. This is so important, especially because in a lot of remote areas in Africa, teaching can be a very isolated profession. It is common to have one teacher for an entire community school, with no peers with which to share their experiences, ask questions, or get feedback. The platform allows teachers to connect with other teachers in their own community, city, or country.
1 Million Teachers Partners with Girl Rising
In the spring of 2021, Hakeem approached me with a possible partnership opportunity with Girl Rising. Over the past decade, North Eastern Nigeria has been terrorized by Boko Haram, who have targeted women and girls with rape and sexual violence. In 2014, hundreds of girls were abducted by Boko Haram in Borno, and many are still missing. Another mass kidnapping of schoolchildren took place in 2018 in Yobe. The violence continues to this day.  COVID-19 has only exacerbated existing challenges in the humanitarian response in Northern Nigeria, where the government's armed conflict with Boko Haram has left over 7.5 million people in need of emergency humanitarian assistance. 
During this time in North Eastern Nigeria, many teachers have been killed and millions of children have stayed at home, fearing for their lives if they attend school. Today, Nigeria has about 10.3 million out-of-school children - the highest in the world - and a high level of insecurity in Northern Nigeria, due to the activities of Boko Haram and increasing banditry and ethnic conflict. 1 Million Teachers has joined forces with others, such as Girl Rising, to respond to this emergency by setting up mobile learning hubs across the region. These pop-up hubs provide a safe space for students and teachers to meet and continue their education close to home. In our new partnership, we are using these mobile learning hubs to train teachers on our 11-session Nigeria curriculum, which was developed in 2016 and includes vignettes highlighting the experiences of girls in Northern Nigeria. We will be training local 1 Million Teacher staff to deliver quality training on this curriculum for teachers. While the resources are printed and ready to go, we are waiting to begin training, and are taking extra precautions to ensure the safety of all adolescents and teachers. There is unstable internet connectivity in conflict zones in the Northern part of the country, due to vandalization of mobile telecommunications facilities and recent shutdown of telecommunications access by governments in the region to help combat banditry. This has made it extremely challenging for us to reach teachers. Only recently have networks gotten back up and running.

In the meantime, we have also developed an interactive and gamified e-learning course on gender, which lives on the 1 Million Teachers platform and is now a compulsory component of their Black Belt program. This provides a tremendous opportunity for us to reach thousands of teachers through a digital training platform. 
Mentor A Teacher Launch: 
We are so grateful to our long time partners, HP, who are supporting this project. Together with 1 Million Teachers and Girl Rising, they have set up a joint "Mentor-a-Teacher" program, matching local HP employees (mentors) with local teachers participating in 1 Million Teachers' Black Belt program (mentees). On October 15th, Girl Rising, HP, and 1 Million Teachers hosted an official partnership launch event in Abuja to mark the official launch of the program. It was also a celebration of the many teachers who have earned their Black Belts and others who are just embarking on their teacher training journey. 
 
With violence increasing across Northern Nigeria, we were constantly adapting and changing dates for the event and at one point, feared it wouldn't happen at all. On October 14th, the day before the event, 60 people were killed in Northern Nigeria. However, with extreme precaution and the tremendously inspiring work done by 1 Million Teachers and HP, the event moved forward. We were thrilled to fly in a few teachers from Sokoto, Zamfara, and Kebbi in Northern Nigeria to participate. This was the first time any of them had ever flown on a plane before, so you can imagine just how inspiring and special of a day it was. 
Representatives from HP spoke and Hakeem shared a passionate video message. Various teachers from Northern Nigeria also spoke to share their experiences in the Black Belt program. Unfortunately, representatives from Girl Rising were unable to travel to the event, due to deteriorating safety and security in Northern Nigeria. It was heartbreaking for me not being able to attend, especially after so many months spent coordinating with Hakeem and HP and just the excitement. Face-to-face time is also incredibly important in Nigerian culture, and it would have been invaluable to meet the HP and 1 Million Teachers teams on the ground. However, the safety and security of our teachers and staff is always our top priority, and we were cautious to not put anyone at risk.
To spread the word and raise awareness of the Mentor-a-Teacher program, HP has put together a video highlight of the launch.