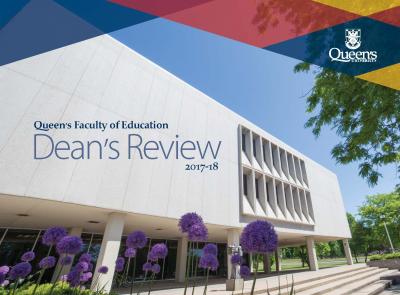 Welcome to the first edition of the Queen's Faculty of Education Dean's Review. This annual publication aims to engage and inform alumni and the education community about the activities, goals, and accomplishments at our Faculty.
2017-2018 has been an exciting and productive year. Our faculty renewal is in full swing with the arrival of three new faculty members in 2017-18 and another four who joined us summer 2018. We have a new smudging space in our ATEP lounge and renovations are completed for our ever-growing Professional Studies and School of English units.
Our students continue to impress us with their enthusiasm and dedication to education. Among the many student accomplishments this year, PhD student Jackson Pind received a Government of Canada History Award, MEd students Sawyer Hogenkamp and Voila David made it to the final in the #Queens3mt Competition, and 13 teacher candidates went to Ghana and Côte d'Ivoire as part of the 1 Million Teachers project.
To continue reading, download the full Dean's Review below.