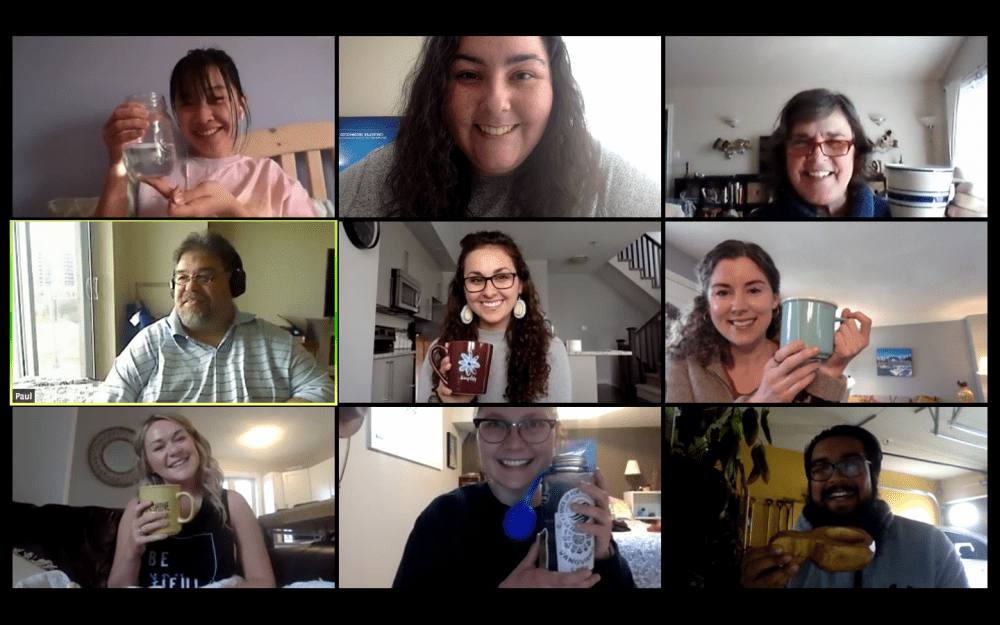 Earlier this month, in order to ensure the safety, health, and well-being of our students, faculty and staff during the pandemic, we were instructed to move all courses to remote delivery. At the time, teacher candidates were away on alternative practicums, travelling home, and developing feelings of fear, stress, worry, and isolation. These feelings are natural when facing circumstances beyond our control. The ATEP team knew that our students would need care and kindness shown to them and began to think of ways that we could provide support to ensure their well-being and maintain the positive and uplifting community we have built throughout this year.
The idea to do a virtual Community Circle came from the place in all of our hearts that knew we were called to continue to demonstrate care for our students during this time. Talking Circles (or Community Circles) symbolize holism and completeness. They encourage dialogue, respect, and build a community space that allows us to open our hearts and connect with one another. In circle, everyone's contribution is equally important, everyone listens to one another, participants are welcomed to express themselves in a way that is comfortable to them, vulnerability is welcomed, and the space created becomes safe and judgement free.
Some of our ATEP teacher candidates have commented on what the virtual Community Circle means to them:
"When I was told to rush back to Canada after only being in New Zealand for a week and a half of what should have been a four-week alternative practicum overseas, I was devastated. Quarantine was rough; alone with my sadness, I was grieving this loss that should have been the best cultural learning opportunity of my life. When ATEP suggested holding a Virtual Community Circle, it brought back light amongst all the uncertainties and changes COVID-19 brought and I knew this would be the best part of the weeks to come. During our Community Circles, we (teacher candidates) can share how we feel, listen to others share tips and tricks that help them stay strong during this pandemic, but it also assures that we keep our sense of belonging within our community. When we meet for the Circle, we know there are no judgments and that everyone is meeting with open-minds and hearts. Even ATEP teachers and staff join, which makes it even better because we know they genuinely care about the teacher candidates."
- Anika Richard
"The ATEP program continues to provide support in ways that I feel so thankful to have access to. Once I came back to Canada from my alternative practicum in Mexico, my reaction was first, disbelief that a pandemic was happening, and then I grieved. I immediately grieved the loss of opportunity to learn about Mixtec culture in Oaxaca.  Following that, I grieved the loss of seeing friends, teachers, staff and colleagues at Queen's…I worried about my learning. How would Indigenous knowledge be learned/shared if not through the cultural practices that were integrated into the program, like smudging, feasts, talking circles, language nest, face-to-face appointments with the Elder in Residence?
[Then]…the ATEP Virtual Community Circle made itself available to us. I didn't know if I had the energy to engage - especially the way I was feeling, but upon seeing some familiar and supportive faces members of the ATEP team and fellow ATEP students and sharing experiences with everyone about having to come home so soon was in many ways healing for me…I was able to hear orally someone say to me, "We know this may be difficult for folks. Let us know how we can support you. " And that's truly what I needed to hear in that moment. We shared humour and kindness. We shared information about moving forward in the best way we can, given the circumstances. 
…Queen's University is showing support in real ways and this is something that I am proud to share with family and friends about the place I chose to study. Special thanks to the ATEP team/staff working in community and behind the scenes, Deb St. Amant, Paul Carl, Kate Freeman, Olivia Rondeau, Kelly Maracle, Alice Johnston, and Lindsay Morcom. Miigwech, Nia:wen, gracias, merci, and thank you to all!"
- ATEP Student  
"The ATEP Virtual Community Circle is an easy way for me to stay connected with others. It is a time to catch up, share feelings, and talk about everything that has been going on in this period of simultaneous stagnancy and business. Mostly, though, it is a time to simply be together with others. Because I am no longer able to join the ATEP students and connect with them in real life at school, this Circle has been able to provide me with much needed social comfort. I miss the feeling of home that came with being with everyone in ATEP; but given the circumstances, this Virtual Community Circle is the best possible option."
- Oshynne Lee Loy
From everyone at ATEP (students, staff, and faculty), we hope that everyone is keeping safe, healthy, and finding ways to support their mental, spiritual, physical, and emotional well-being during this difficult time and that our virtual Community Circle can influence others to gather virtually and support one another from a safe distance.