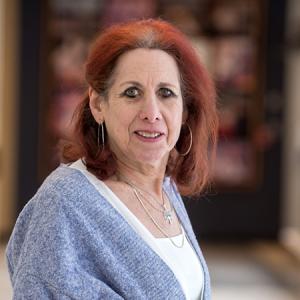 Andrea Martin
Associate Professor of Elementary Language
People Directory Affiliation Category
BAH (Smith College), MA (Sussex), MSc (LSE), BEd, MEd, PhD, (Queen's)
Associate Professor of Inclusive Education and Teacher Development, Graduate Faculty
Dr. Andrea Martin is an Associate Professor in the Faculty of Education, Queen's University, where she has taught since 1997. Her background is in education and social work and she has taught and worked with children and youth at the elementary and secondary levels with a particular focus on supporting exceptional learners, including the at-risk population. Her research interests centre on teacher education, with an emphasis on the quality and impact of practicum learning experiences and on the process of collaboration and school-university partnerships, as well as on differentiating instruction for struggling readers with exceptionalities in regular classrooms and on developing instructional interventions to assist them. She is co-author of a textbook entitled Inclusive Classrooms in Ontario Schools, published by Pearson Education Canada.  She holds a B.A. degree from Smith College, a BEd from Queen's, an MA from the University of Sussex, an MSc from the London School of Economics in Social Administration and Social Work Studies, an MEd in Educational Psychology and a PhD degree in Cognitive Studies and Curriculum Studies from Queen's University.​
Current Research Grant
2010 SSHRC Standard Research Grant entitled, Improving the quality of practicum learning: Case studies of four Canadian teacher education programs. 
Recent Publications
Russell, T., & Martin, A. K. (in press). Learning to teach science. In N. Lederman & S. Abell (Eds.), Handbook of research on science education, Volume II. London, UK: Routledge.
Russell, T., & Martin, A. K. (2013). Challenges to promoting quality in preservice practicum experiences. In M. A. Flores, A. A. Carvalho, F. Ferreira, & T. Vilaça (Eds.), Back to the future: Legacies, continuities and changes in educational policy, practice and research (pp. 219-230)Rotterdam, The Netherlands: Sense Publishers.
Russell, T., Martin, A., O'Connor, K., Bullock, S., & Dillon, D. (2013). Comparing fundamental conceptual frameworks for teacher education programs in Canada. In L. Thomas (Ed.),What is Canadian about teacher education in Canada? Multiple perspectives on Canadian teacher education in the 21st century (pp. 10-36). Canadian Association for Teacher Education/Association Canadienne pour la Formation á l'enseignement. Published online
Russell, T., & Martin, A. K. (2013). Preservice teacher education. Oxford Bibliographies. Published online
Hutchinson, N. L., & Martin, A. K. (2012). Inclusive classrooms in Ontario Schools. Toronto: Pearson Canada.
Courses Taught
PROF 190: Theory and Professional Practice
PRAC 190​: Practicum: Consecutive (Primary/Junior)
PROF 100​: Critical Issues in Education (Equity and Exceptionality)
PROF 100: Critical Issues in Education (Exceptionality)
CURR 371: Reading and Language Arts, Primary/Junior
FOUN 465: Learning and Development in Adolescence
FOUN 476: Exceptional Children and Adolescents
SOCS 485​: Sociology of Deviance