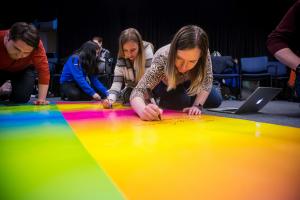 For information on this program, please visit the Artist in Community Education.
Consecutive Education applicants submit official transcripts of all post-secondary institutions attended, a Personal Statement of Experience (PSE) and the Supplemental Documents listed below.
Concurrent Education students submit the following documents to Student Services by December 10, 2023, if their final BEd year is in 2024-2025.
Application Checklist for Artist in Community Education
Please submit all supplemental documents using the Supplemental Documents Form.  Please note: this form can only be completed once, so please ensure all your documents are finalized and ready for submission.
Document
An application cover sheet with your name and Queen's student number (Concurrent applicants) or OUAC number (Consecutive applicants).
An arts résumé focusing on your education, experiences and interests in the arts (visual arts, music, drama, or creative writing).
A one-page letter of introduction providing a brief overview of your artistic activities as they relate to your strong commitment to education and your commitment to artistic practice in one or more of the arts, with particular emphasis on work completed outside artistic requirements of your program of study.
An artistic portfolio outlining your professional arts activities. There is no specified format for the portfolio. Applicants are encouraged to include material that demonstrates, illustrates and/or documents the details of their artistic and arts-related practice.
If you have questions please contact Education Student Services.