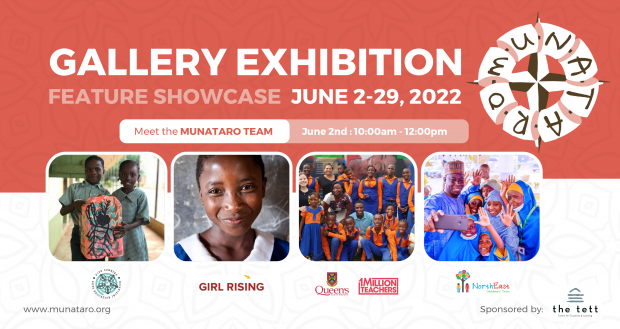 The Muna Taro art exhibition will take place in the Tett Centre Gallery from June 2 – 29, 2022.
This event is free and all are welcome!

Meet the Muna Taro Team from 2 pm to 4 pm on June 2, 2022!
Who, Where, Why, What?
East meets West, North meets South. Innovative solutions blend with deeply rooted cultures. We weave the powerful elements at our disposal to create an empowered modern African Youth. We are coming together, please join us!
Muna Taro is a collaboration between Five Cowries Arts Education Initiative, 1 Million Teachers and Girl Rising. It is a call to action for us to come together to find innovative solutions that improve and support quality learning experience for children and youth, especially girls in Nigeria/Africa. In addition, it highlights how they are challenging conventional systems that may not be relevant to 21st century realities.
The exhibition will comprise of photographs that illustrate the positive influence of education when combined with highly skilled, trained, and empowered educators in the lives of children, especially the girl child. One of the projects that will be showcased is "My Story of Water". It is a project that educators can deliver in the classroom, in the community or in the home.
It introduces learners to challenging issues around water by focusing on various aspects of their own "Water Story". From the science of water to trade to environmental issues young people develop, life skills and knowledge that will enable them to positively impact on their communities' water reality. There will be hand painted water jerry cans from children in Nigeria to showcase their story of water.
The Muna Taro gallery exhibition is sponsored by The Tett Centre for Creativity & Learning. Please visit tettcentre.org for exhibition dates & hours. Queen's University will collaborate with Limestone School District for elementary school children in Kingston and surrounding areas to have the opportunity to visit the Tett Centre in the month of June to learn more about education in Nigeria.