A Free Family Event
Save the date for Science Rendezvous Kingston 2022!
Saturday, May 7, 2022 at the Leon's Centre
Celebrate science and honour our amazing Kingston-area researchers & scientists! From May 7-22 you're invited to hundreds of virtual and in-person events! Interested in the Ice Age? Deep space? Robots? Hearts? Brains? Climate? Mining? We've got all this and more and everything is free! Whether you're 9 or 90, you'll learn, have fun and be inspired by the wonder and possibilities of science, technology and engineering.
This event is free and family-oriented.
There is something for everyone!
For more information contact Kim Garrett at community.outreach@queensu.ca.
Download the Science Rendezvous Kingston Day Proclamation (PDF 165 KB) declaring May 7, 2022 Science Rendezvous Day in the City of Kingston!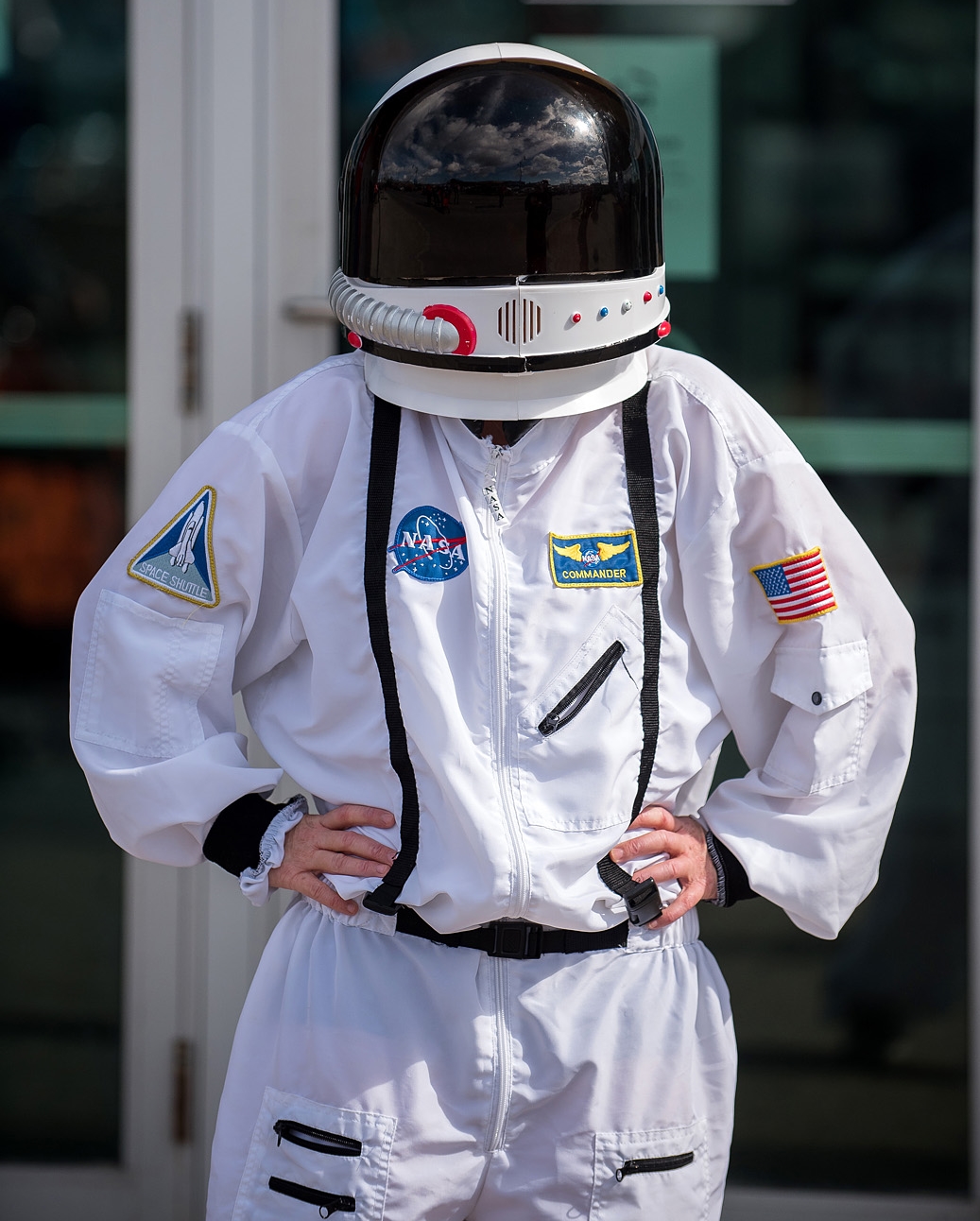 STEM Sampler Sneak-a-peek 
May 4 | 3-6 pm 
Kingston's Springer Market Square 
No registration required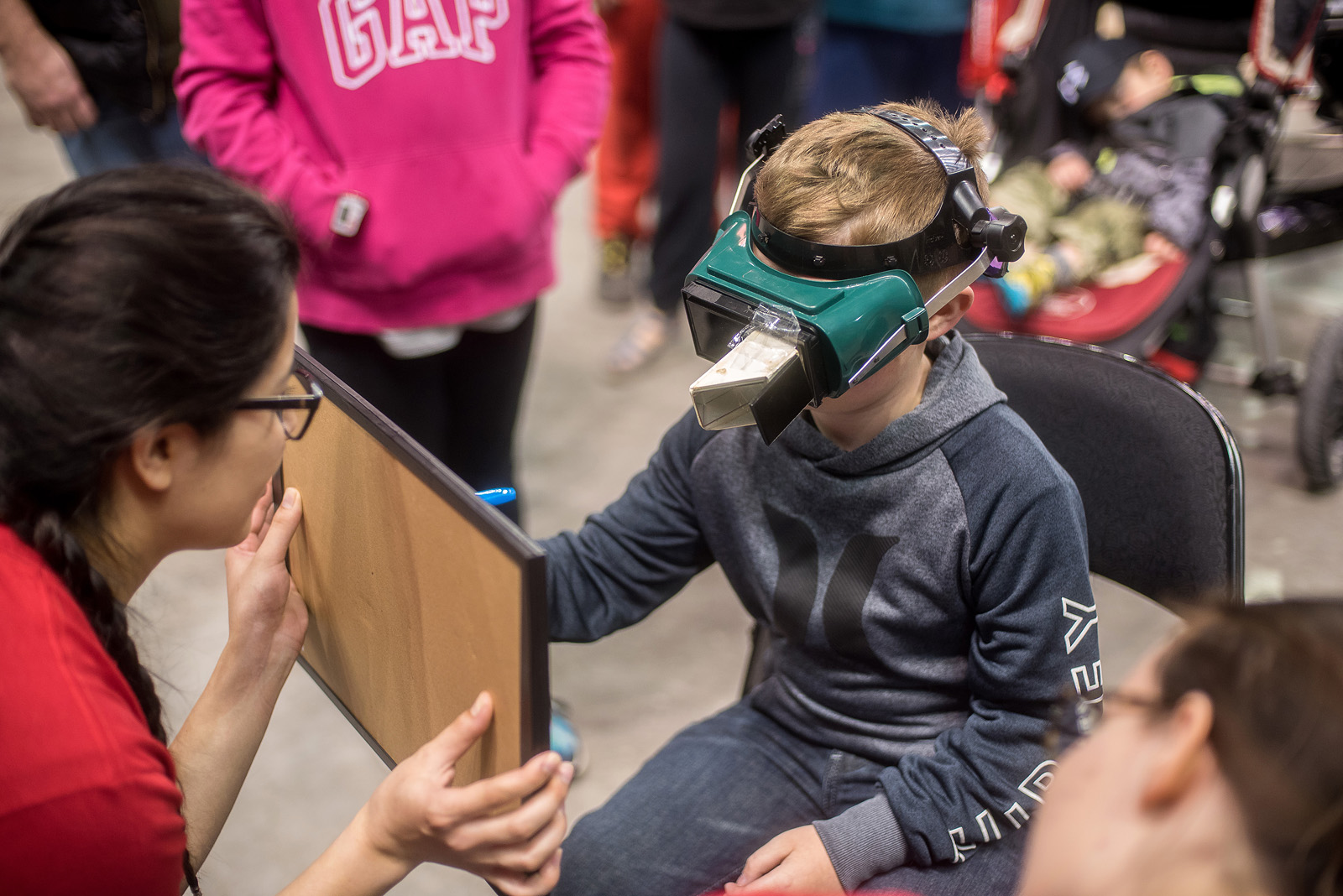 Science Rendezvous Kingston Live!
May 7 | 10-3 pm 
Leon's Centre, Tragically Hip Way and King Street, Downtown Kingston
Free all ages event with over 25 interactive displays.
No registration necessary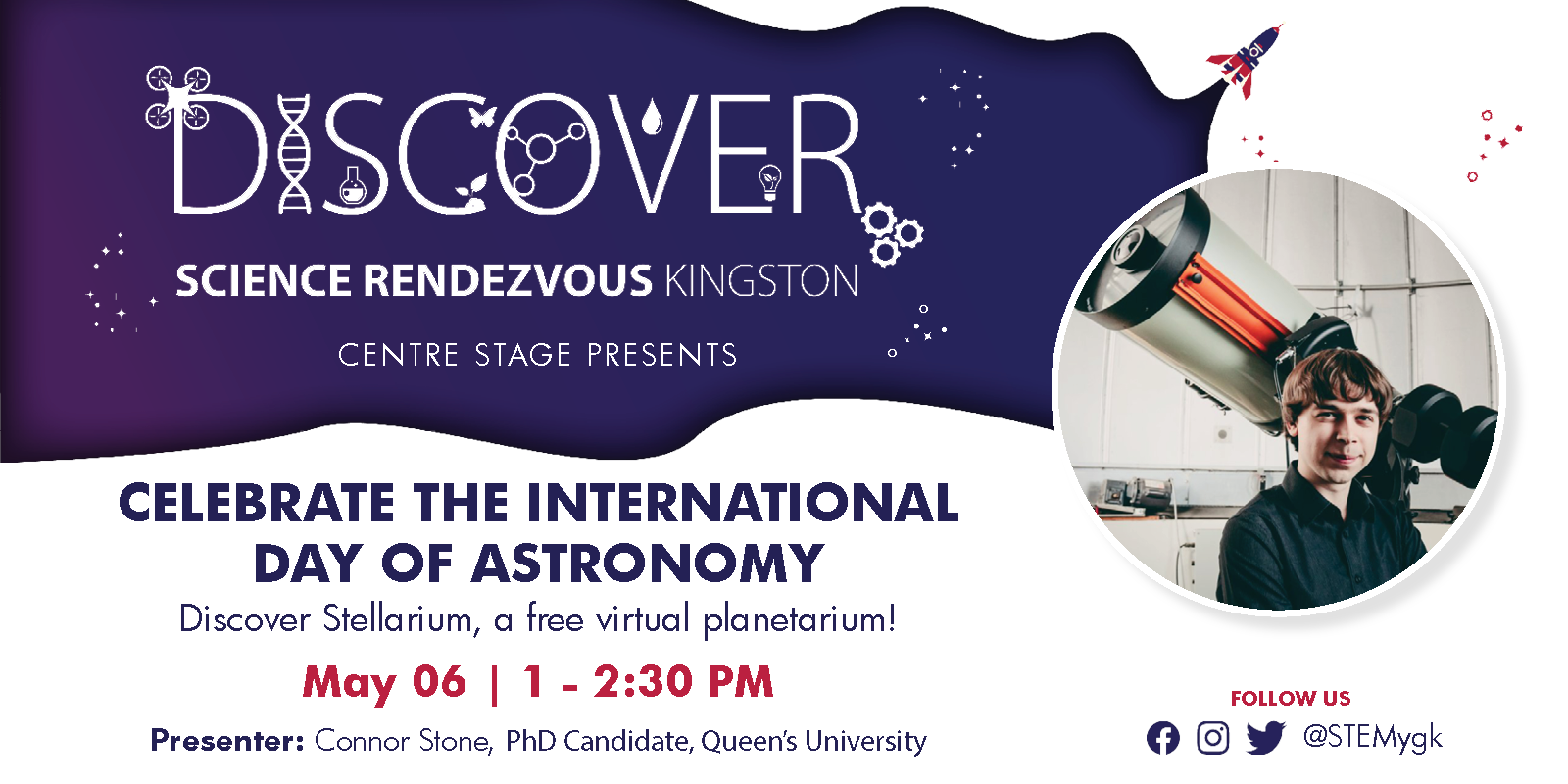 Celebrate the International Day of Astronomy 
Discover Stellarium, a free virtual planetarium
May 6 | 1 - 2:30 pm | Register

Join me as we explore the night sky from home using the free software: Stellarium. In this presentation I will show you how to navigate the night sky, find nebulae, galaxies, planets, and constellations with nothing but your eyes and a pair of binoculars. The night sky is our shared backyard through space and time, see how you can learn about unique sky stories from cultures around the world. Get excited about what you can find in the night sky, there's a whole Universe up there to explore and it's free for everyone!  Discover Stellarium information (PDF 453 KB)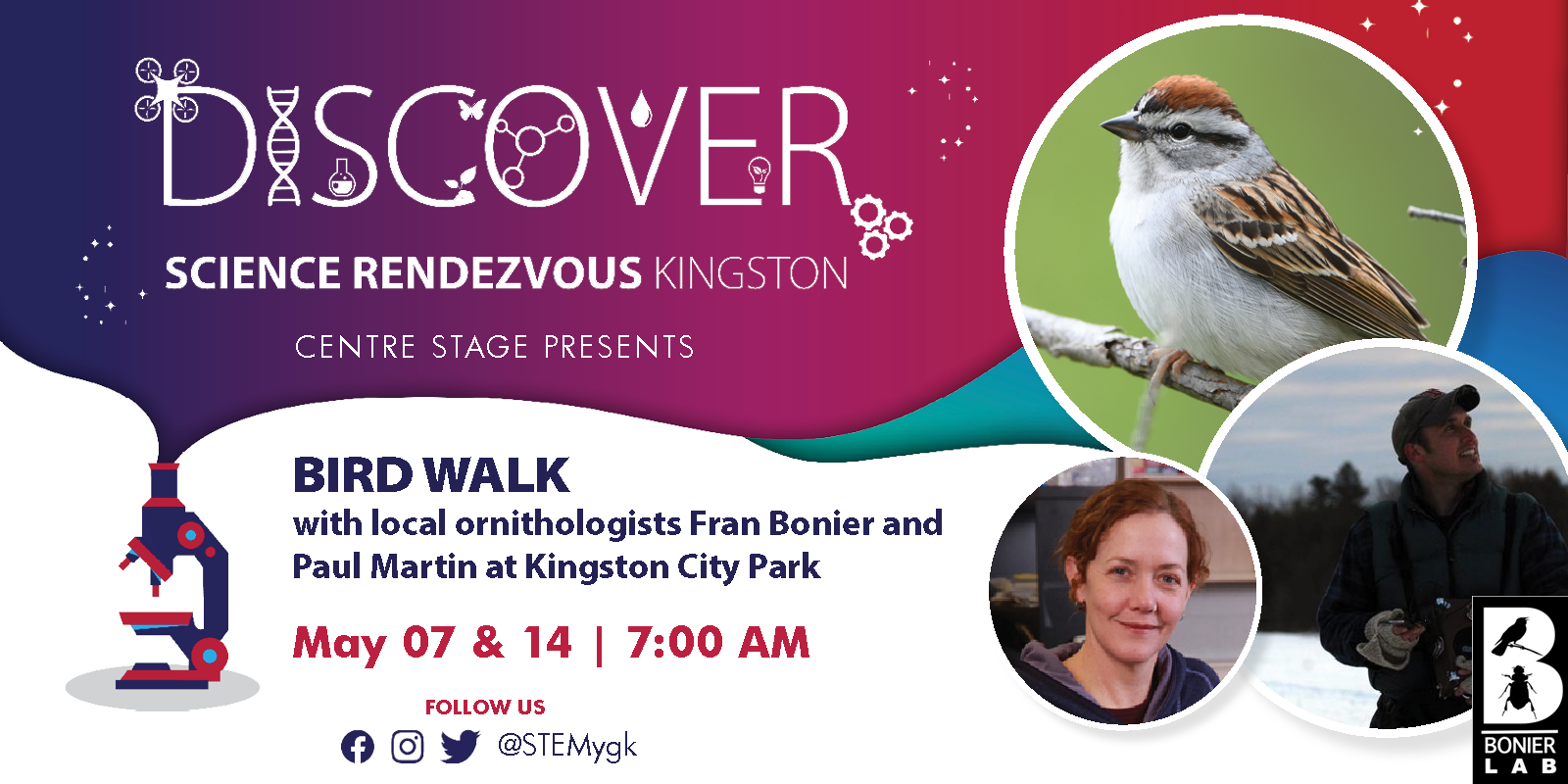 Bird walk with local ornithologists Fran Bonier and Paul Martin at Kingston City Park 
May 7 & 14 | 7 am | Register
Participants will meet at City Park (North Side near the Court House) at 7:00 a.m.
Participants should bring binoculars and water, and expect to walk for about 2 hours, but
at a nice leisurely pace with lots of stops to look at birds and chat. Fran and Paul will bring a spotting scope and some other gear to help ensure people see some cool stuff!
Registration is required for this event. Maximum number for each walk is 20. Rain date will be May 15, 2022. More information about the  Bird Walk (PDF 737 KB).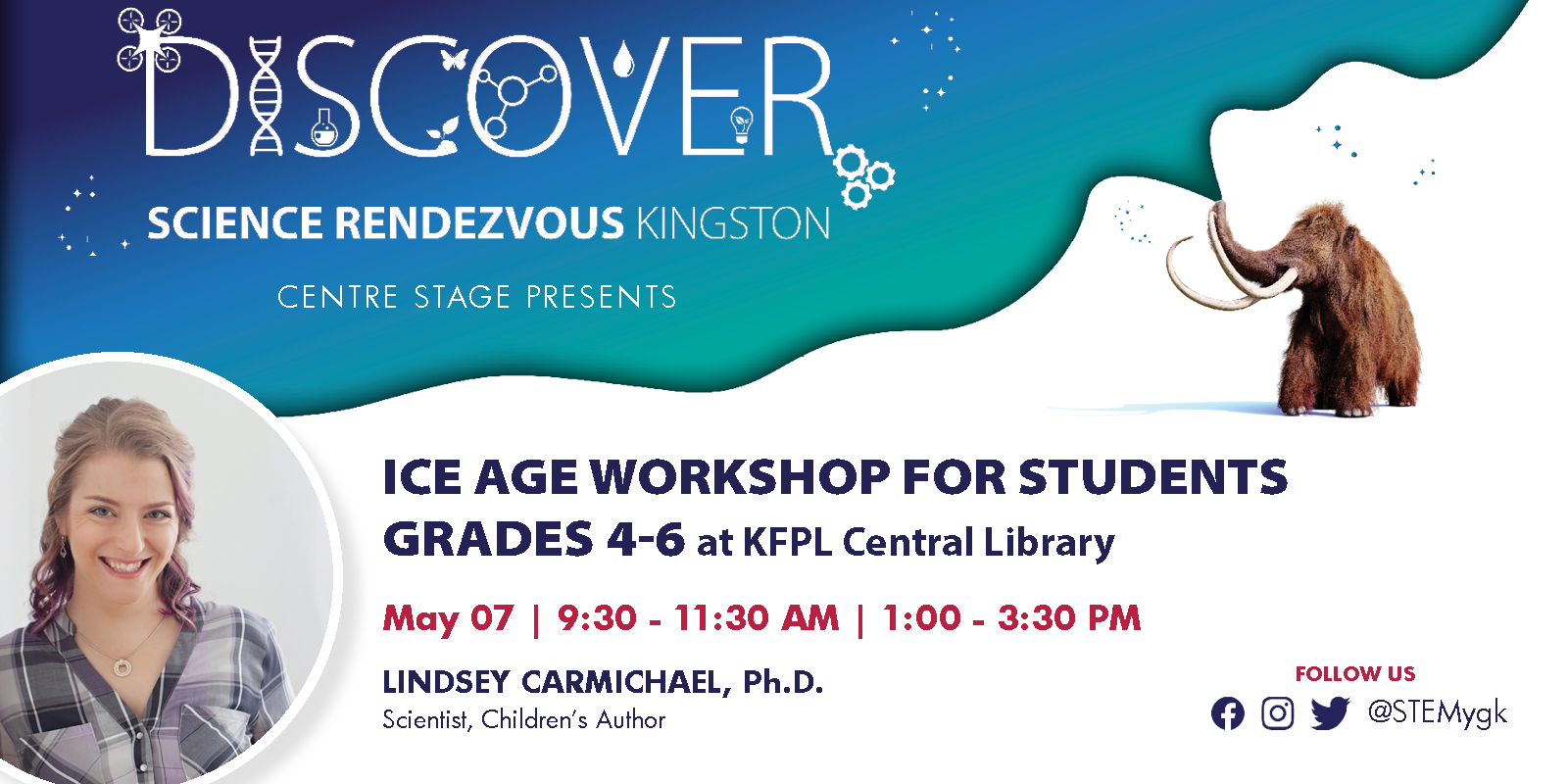 Ice Age Workshop for Students Grades 4-6 with Lindsey Carmichael
KFPL Central Library 
May 7 | 9:30 - 11:30 am | Register
Once upon a time, giants walked the Earth. From beavers the size of bears to sloths the size of giraffes, to mammoths and mastodons and saber-toothed cats, Canada was home to creatures far larger — and stranger — than any living here today. To the people who lived alongside them, the Pleistocene megafauna represented danger and survival all in one hairy package. But then something happened: the Ice Age ended, and 38 different types of mega-mammals went extinct. Luckily for us, they left their fossils behind! Those bones, teeth, and mummies help palaeontologists — and fans of the Ice Age movies! — understand what life in the Pleistocene was really like. In this workshop, you'll learn more about Canada's Ice Age and the animals that once lived here. We'll do a hands-on experiment and several activities involving real fossils of extinct animals. All participants will take home a field notebook recording their explorations… and a fossil of their very own! Find out more about the  Ice Age event (PDF 444 KB).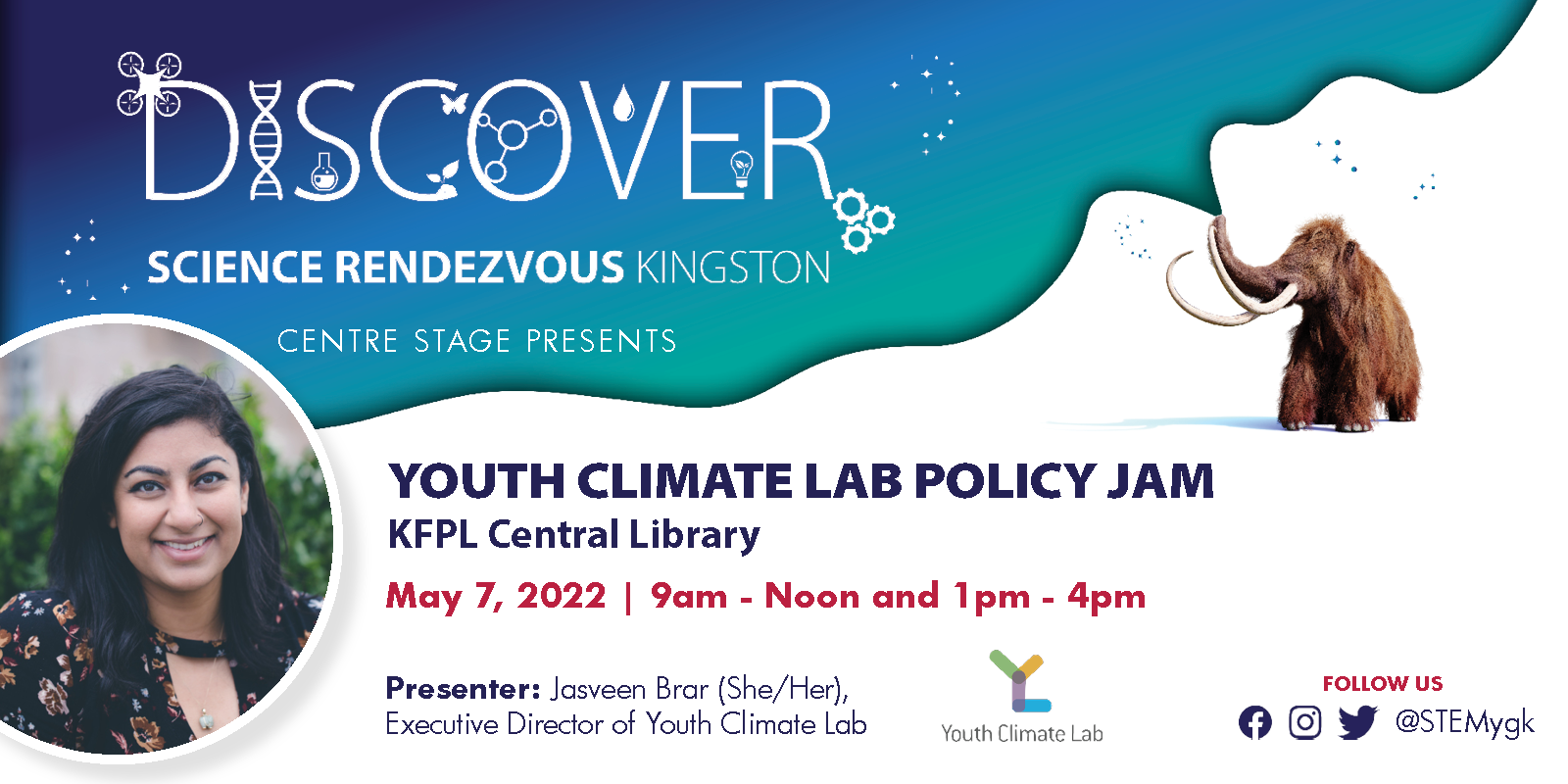 Youth Climate Lab Policy Jam with Jasveen Brar (She/Her), Executive Director of Youth Climate Lab
May 7, 2022 | 9 - noon & 1 - 4 pm | Register
WORKSHOP 1: Climate Action Youth Policy Jam (Part 1)
Policy Jam hosted by Youth Climate Lab (YCL). This session will be a dynamic space for youth to connect and learn about climate action in their local community and beyond and to explore creative solutions of youth in just and climate resilient spaces.

WORKSHOP 2: Climate Action Youth Policy Jam (Part 2)
In this workshop we will focus on the conclusion and lessons from Workshop 1 (for anyone that was unable to join) as well as focus on the power of storytelling (how to leverage their storytelling skills), discovering your potential and voice as well as how to get involved in your local community.  Youth Climate Lab Policy Jam Poster (PDF 558 KB)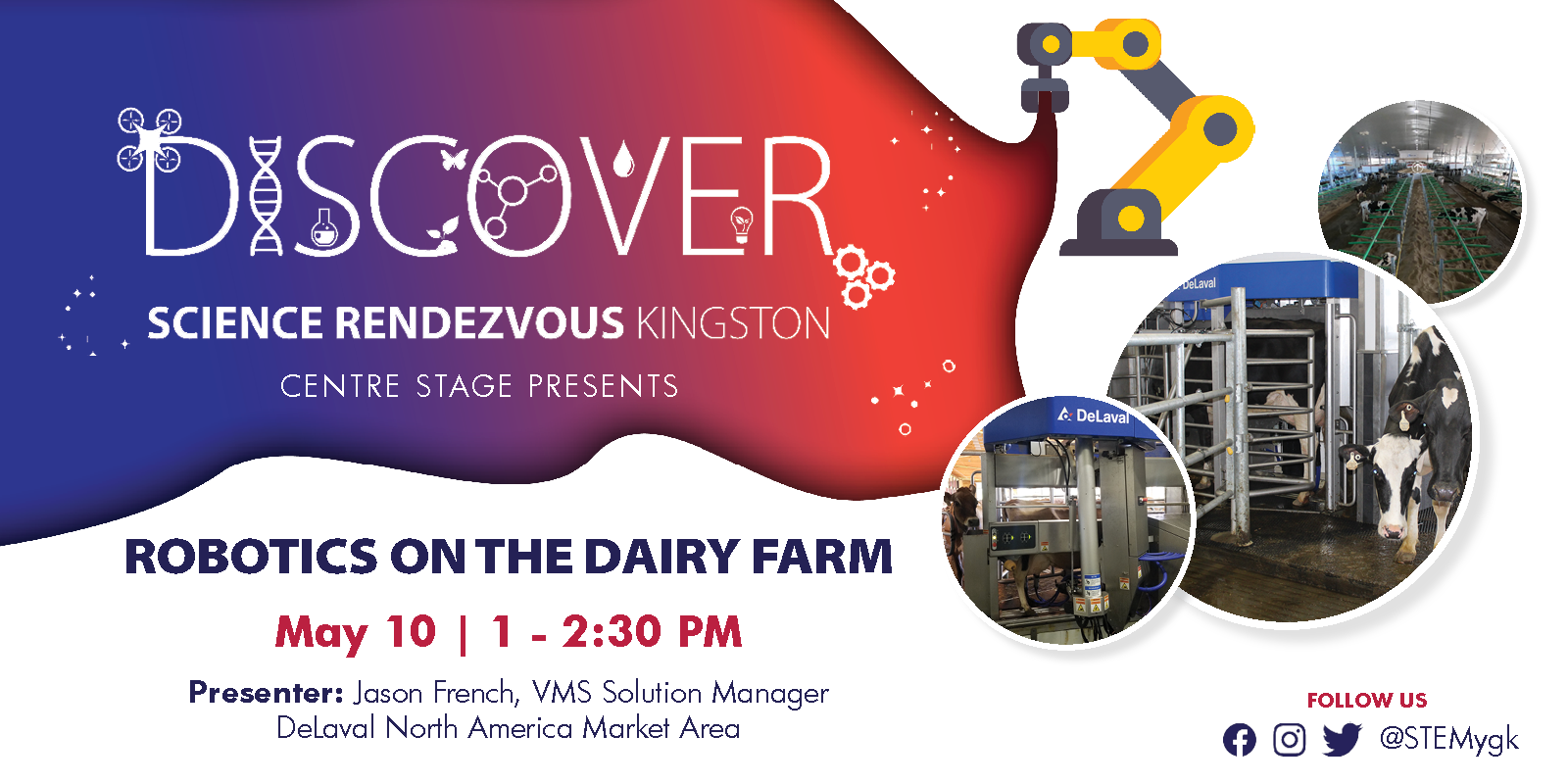 Robotics on the Dairy Farm with Jason French, DeLaval 
May 10, 2022 | 1 -2:30 pm | Register for Robotics on the Dairy Farm 
The dairy farm has seen a lot of change when it comes to agriculture technologies over the last 100 years, and the level of speed that this is occurring is incredible. One major change is the way cows are being milked, and robotic milking is becoming a fast adopted system in farms around the world. We will look at how the milking robot operates and how the overall cow comfort in these new dairy barns is making cows live longer. We will present videos of cows being robotically milked virtual tour of a robot barn to see how these cows are living today. When you go to buy that container of milk or tub of ice cream at your local store in the future, you will then know more about how that milk product started off at the farm before it gets to your table.  Poster for the Robotics on the Dairy Farm (PDF 595 KB)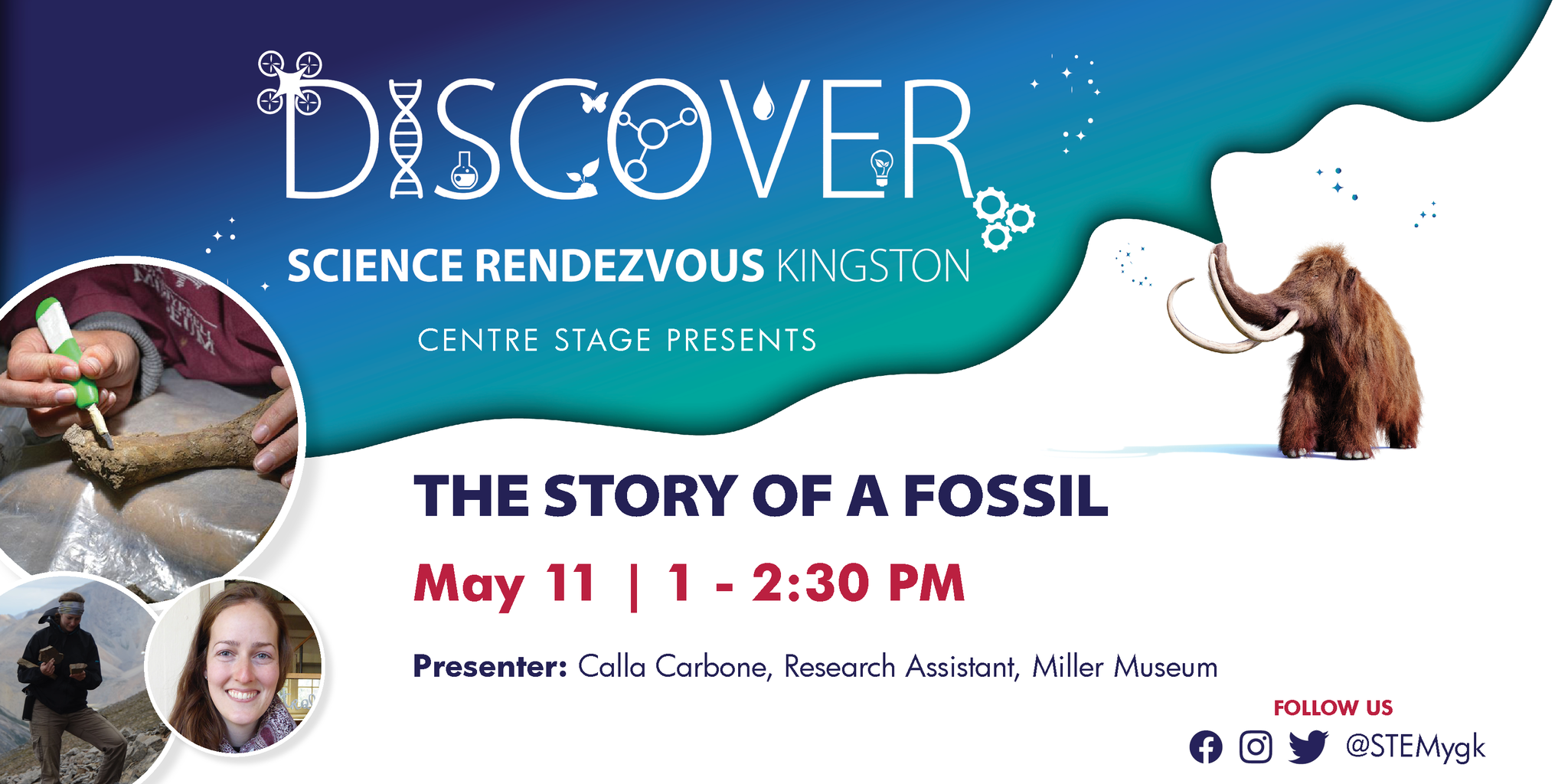 The Story of A Fossil with Calla Carbone
May 11, 2022 | 1-2:30 pm | Register for the Story of a Fossil
From Discovery to Display: The Work of a Paleontologist – A webinar given by a paleontologist discussing their experiences working on a variety of different Canadian fossils including Ediacaran fossils from Mistaken Point (Newfoundland) and the Northwest Territories, and Cretaceous fossils from the badlands of Alberta. The paleontologist will outline all of the steps that go into a fossil discovery: prospection, collection, preparation, research, and display and will be available for questions.  Story of a Fossil Poster (PDF 540 KB).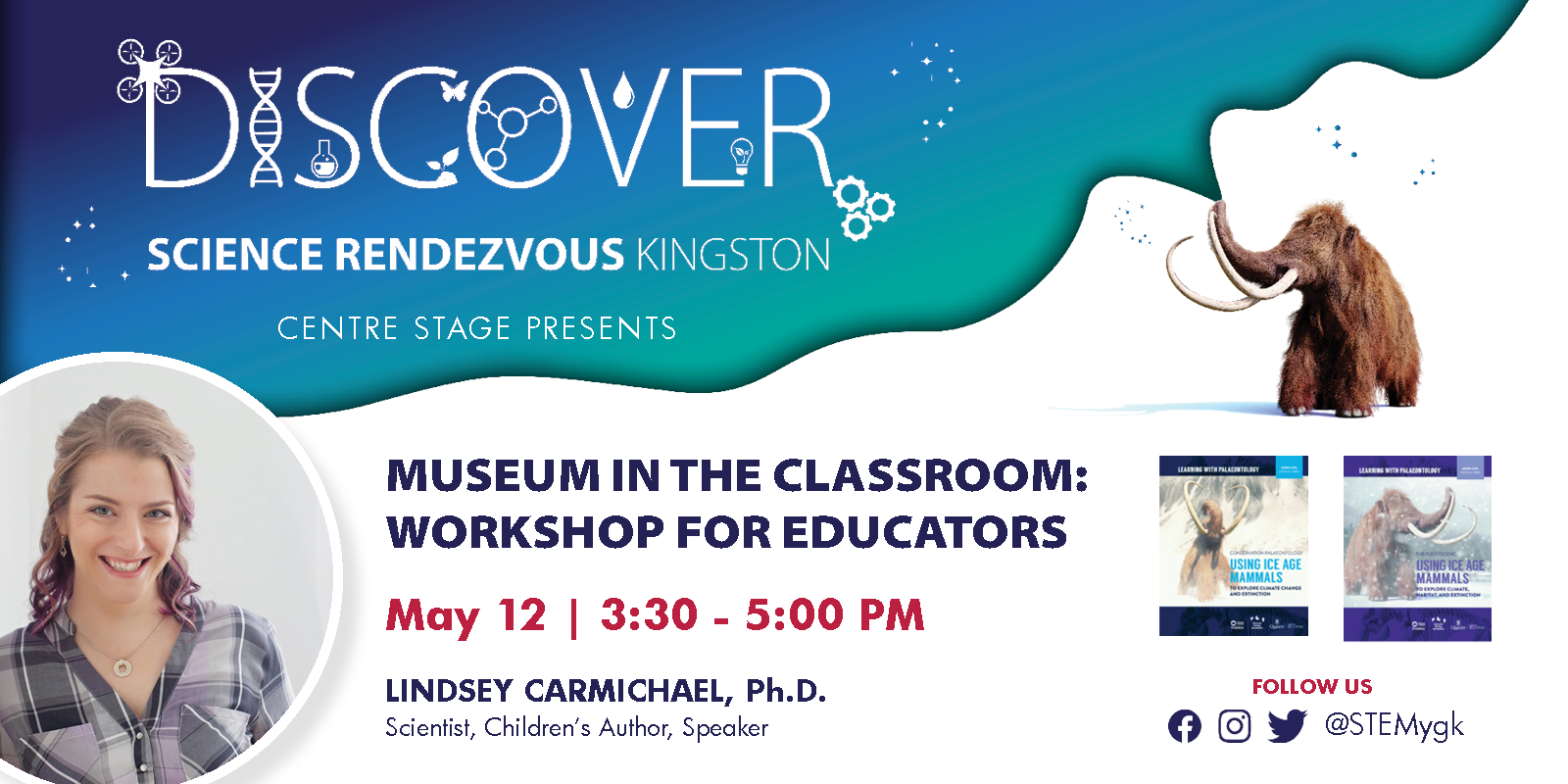 Museum in the Classroom: Workshop for Educators with Lindsey Carmichael
May 12 | 3:30 - 5 pm | Register for this virtual event 
Visits to natural history museums inspire curiousity, awe, and wonder towards the natural world, motivating students to learn more about STEM. However, not all students can make these visits, either from home, or with school sponsored field trips. Learning With Palaeontology Teaching Kits bridge this gap, bringing the museum into the classroom for the benefit of all. Containing museum-quality artifacts, experiential learning opportunities, and curriculum-linked teaching resources, these Kits will affect positive attitudinal change, improve content knowledge, and lead to further interest, independent study or future STEM career goals for young learners. Students will explore biology, zoology, geology, chemistry, physics, and mathematics,
while studying fossil casts and supporting materials. The included Teacher's Guides will help instructors transition from the "inexperienced enthusiasts" of field trip leaders to STEM content experts with comfort facilitating experiential, exploratory learning. Junior-level and Senior-level kits on the Pleistocene Extinction launch in 2022. In this workshop, you'll discover how to bring these free resources into your classroom. You'll examine the fossils, ask questions, and attempt some of the suggested classroom activities. Information on contents, curriculum connections, and borrowing both physical and digital editions of the Kits will be provided. Poster for Museum in the Classroom workshop (PDF 570 KB).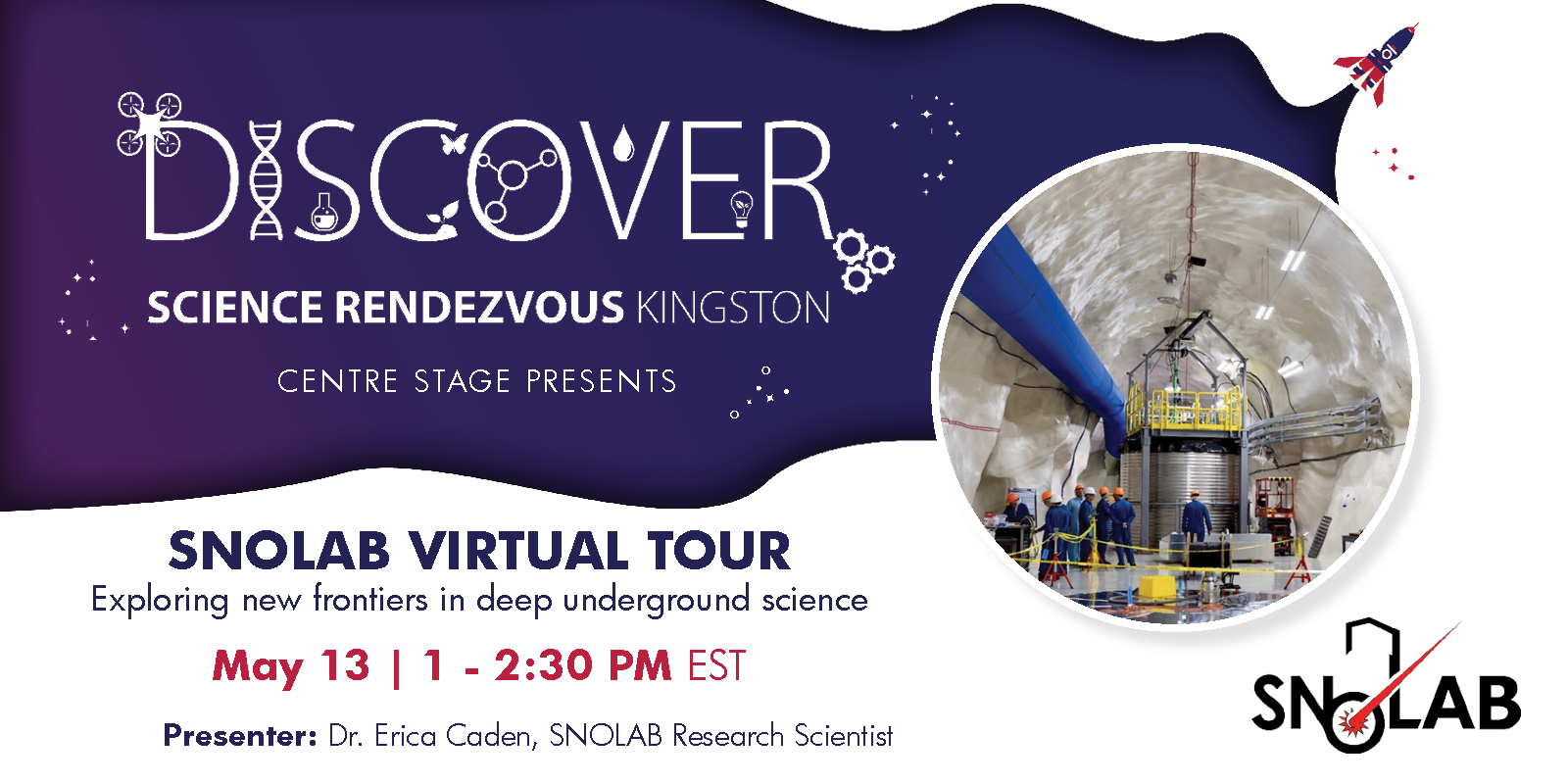 SNOLAB Virtual Tour: Exploring new frontiers in deep underground science 
May 13, 2022 | 1 - 2:30 pm | Register for the SNOLAB Virtual Tour
Join the team at SNOLAB for a virtual tour of Canada's deep underground science laboratory. SNOLAB is a clean lab that is located 2km underground in an active mine. Scientists from around the world work together on huge experiment collaborations. Many experiments are focused on astroparticle physics but SNOLAB also hosts biology, geology and other types of science. Learn about the journey into the laboratory, about the science, and the people that make it happen. SNOLAB Virtual Tour Poster (PDF 712 KB)
Science Rendezvous Kingston would like to thank our sponsors, presenters, content creators, and visitors for supporting our first virtual event. 29,000 celebrated our 10th year with us!
Science Rendezvous Kingston 2021 Annual Report (PDF 7.12 MB)
Science Rendezvous Kingston's 2021 Sponsors and Supporters
Sponsors
Proud Media Partners
Supporters
Transcriptions are available for all videos from the fair.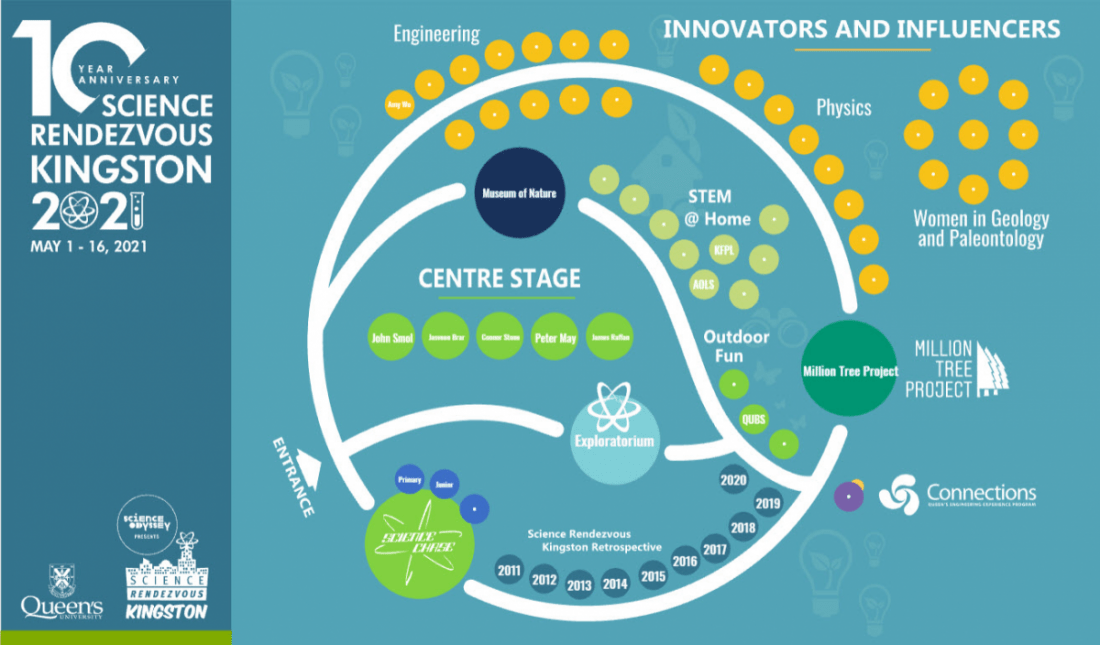 Click the map to enter the virtual expo!